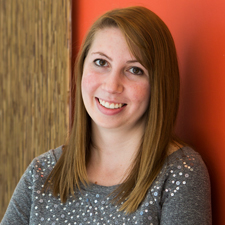 As a freshman with an interest in neurology, Sarah Davis started working with biomedical anthropologist Ralph Garruto, whose research group investigates the spread of Lyme disease across upstate New York and the Northeast. She continued as a sophomore, and by the end of the school year, with a fellowship from the Summer Scholars and Artists Program, Davis began her own research.
"I found a few preliminary studies that showed a correlation between chronic Lyme and neurodegenerative disorders such as Alzheimer's, Parkinson's and dementia," says Davis, now a junior majoring in integrative neuroscience. "There was some strong evidence, but they were very basic studies, mainly done by one person about 10 years ago. I felt compelled to do more research, because I wanted to understand it better."
Working with Garruto and doctoral candidate John Darcy, Davis surveyed people whose Lyme disease had progressed from the acute stage to become a chronic condition. In the 200 surveys that have come back so far, she has seen links by sex, with women outnumbering men by about 10 percent, and between chronic Lyme and people with family histories of neurodegenerative disorders.
"There are some definite trends with symptoms of pre-neurodegenerative disease, and with a bias toward females, which is consistent with the literature," says Davis, who expects to receive another hundred responses before analyzing the results later this semester. "I plan to look at both, and though it's not our main focus, we're hoping to find information that could tell us why females are more likely to get chronic Lyme than males."
In the rest of her work on Garruto's team, Davis talks with survey participants, maps the tick population around campus and assesses whether there are specific behaviors that increase the risk of being bitten by ticks. "Sarah is a researcher with a lot of strengths," says Garruto, a research professor of biomedical anthropology. "She's bright, dedicated and inquisitive, with significant experience working in the field of neurology. That's been the central theme of her academic training and her clinical experience. Though no one can really predict at this stage, I expect Sarah to wind up in the field of neurology."
Davis, who grew up on a farm in Greenville, N.Y., and whose mother has recovered from acute Lyme disease, estimates that she has been bitten by ticks 20 to 30 times. But that isn't going to stop her from trying to find out more about the disease.
"I really enjoy doing this research," she says.  "It's different from sitting in a classroom, because I'm able to go out on my own, listen to people tell their stories and discover things through my own process."