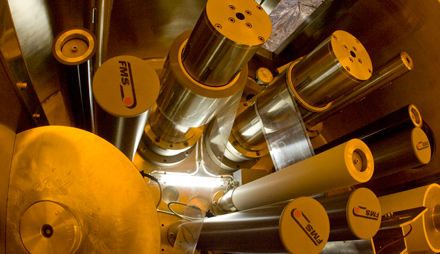 Binghamton will lead the New York node of a new $75 million, five-year initiative to advance flexible hybrid electronics manufacturing.
Read More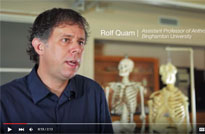 Binghamton's Rolf Quam led an international team in reconstructing an aspect of sensory perception in fossils from 2 million years ago found in South Africa.
Watch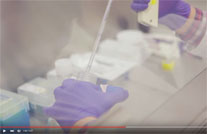 Biomedical engineering student Kyle Reeser talks about using 3D printing techniques to create human skin.
Watch
Research In The News
Battle may be more important than previously thought
The Battle of Fort Anne, long seen as a minor skirmish in the Revolutionary War, was actually a turning point that led to the defeat of Gen. John Burgoyne's forces at Saratoga on Oct. 17, 1777. That was part of the findings of research by Binghamton University experts, the Post-Star reports.
Did our ancestors have better hearing than we do?
A new Binghamton University study suggests that human ancestors had sharper hearing in certain frequencies and the hearing pattern resembles that of chimpanzees, the Christian Science Monitor reports.
Chemist considered a Nobel favorite
Binghamton University chemist M. Stanley Whittingham was named to the 2015 Thomson Reuters Citation Laureates list for his pioneering research leading to the development of the lithium-ion battery. Based on his elevated quantity of highly cited papers, Thomson Reuters considers Whittingham "of Nobel class" and likely to earn the Nobel Prize someday.