A new exhibit on display at the Center of Excellence Building highlights the artistic elements of scientific research at Binghamton University.
The seventh-annual Art of Science competition received 56 entries, says Martha Terry, creative services manager in the Office of Research Advancement and coordinator of the contest. She selected 11 images for the new show, which will remain in the COE Atrium through early 2024.
"I was impressed once again with the range of entries we saw in this year's competition," Terry says. "Researchers in the life sciences continue to capture such stunning images with microscopes, and we also have a number of extremely talented photographers on campus."
Members of the campus community submitted images in two categories: The World Around Us, in which the subject is visible to the naked eye; and Visualizing the Unseen, captured with the use of optics that extend beyond what the eye can see.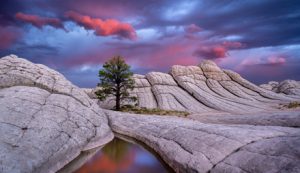 The top prize, Best in Show and First Place in The World Around Us, went to Jessica Fridrich, distinguished professor of electrical and computer engineering. Her entry, titled "Celestial Cotton Candy," featured violent weather in the Southwest. "Monsoons can be dangerous and destructive as well as awe inspiring and outright beautiful," she wrote in her entry. "I am a researcher. My job is to look for new problems and open people's eyes. My photography does the same as I search for new compositions and ways to portray remote places."
Second Place in that category went to Pavel Masek, assistant professor of biological sciences, for an image he captured with his cell phone at home. The striking photograph shows two fruit flies harvesting nectar from a bee that was killed by a spider.
Third Place honors went to master's student Olivia Lopez for an image titled "A Queen is Born." "A queen bee has found her first drone to mate with on her nuptial flight," she wrote in her entry. "A rare sight to see outside of a human-kept hive, this pair was on a twig on the ground of the campus Nature Preserve main trail, and safely relocated."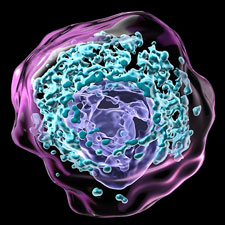 Ling Wang, a lecturer in biomedical engineering, took home top prize in the Visualizing the Unseen category for an image and 3D rendering of breast cancer cells.
Second Place went to an image titled "Hippocampus Blues" submitted by Meredith Gamble, a doctoral candidate in psychology. Third Place went to "Mr. Wrinkle's Sad Smile," entered by Ash Spina, a doctoral candidate in biomedical engineering.
This year's judges were Evan Henderson, creative marketing specialist, Harpur College of Arts and Sciences; Jeffrey Mativetsky, associate professor of physics, applied physics and astronomy and director of the Materials Science and Engineering Program; Blessin McFarlane, an English major and a member of the Class of 2023; and Meera Sampath, associate dean of research, Thomas J. Watson College of Engineering and Applied Science. They evaluated entries based on artistic merit as well as scientific significance.
Each of them presented a Judge's Choice selection. Those honors went to "Levitating Gel Donut," entered by Kirsten Krick, a graduate student in biomedical engineering; "Dermal Nebula," also entered by Spina; "Fruit Flies Stealing Nectar from a Killed Bee," submitted by Masek; and "Celestial Cotton Candy," entered by Fridrich.
The contest, sponsored by the Office of Research Advancement and the S3IP Center of Excellence, was part of Research Days festivities.