A Binghamton University undergraduate traveled to South America to document political and social messages in murals.
Peter Farquharson, a junior majoring in art history, saw more than 300 murals during his two weeks in Buenos Aries and Quito. While he originally intended to major in political science, he maintains his interest in politics through finding political themes in artforms like muralism.
He planned the trip to South America on his own, including reaching out to artists and mapping out the neighborhoods to view the murals, says Pamela Smart, associate professor of art history.
Some days, he met artists and they provided a direct explanation of the message behind their own murals.
"Other days it was just people who live in the area," Farquharson says. "Because that's an important factor to get in the research. They're the audience to some extent."
He sought to compare modern murals to those from several previous decades to see just how artists, their work and the messages they want to convey have changed.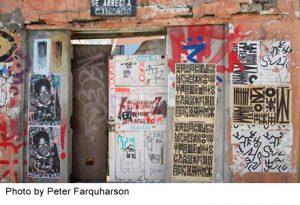 "I'm also finding that the means of visual representation, in some ways, are exactly the same," he says. "There's a sense that artists are evoking the past of the medium, but in about the other half of the cases, it's 'No, we want to do something completely different.'"
Farquharson categorized the murals under two complex umbrellas: art as a political and social statement, and art as a form of creative self-expression. Many of the murals he documented showcase vibrant colors, sharp contrasts between light and dark as well as powerful outlines.
The contrast between the social and political murals guided his trips between the two countries. Argentina's murals centered more on the political, especially the last 100 years and the legacy of the Peróns, the massively influential first family of Argentina during the late 1940s and 1950s. The murals he studied in Ecuador, meanwhile, focused more on the cultural identity of the country, centering on the recognition of indigenous peoples and defining the country's pre-colonial legacy.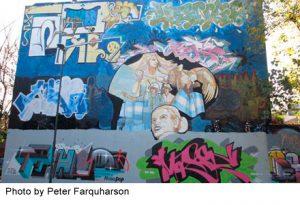 Farquharson's language skills came in handy during the trip; he said he made it a point to converse with artists in Spanish whenever possible. On campus, the Long Island native acts as an English language conversation partner. He is also a teaching assistant for an inter-disciplinary course titled Materials Matter.
Smart said Farquharson was her first choice to run the student discussion sections and assist in teaching the course.
"He stood out in the class last semester, such that he was the person I thought would make a great undergraduate TA," Smart says. "There are several elements there. One was the quality of his work, his work ethic… and the degree of his interest and engagement."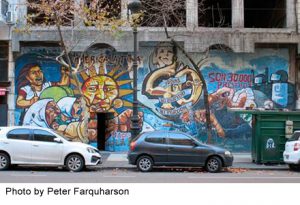 Farquharson maintained that interest even when he was forced to rearrange his plans due to safety concerns while traveling for this research with the Summer Scholars and Artists program.
"If you have an idea and there's something you want to do, there isn't a way that you can't manage," Farquharson says. "There's enough resources on campus and people who want you to succeed, there's no reason you can't take your own idea and make it a reality."