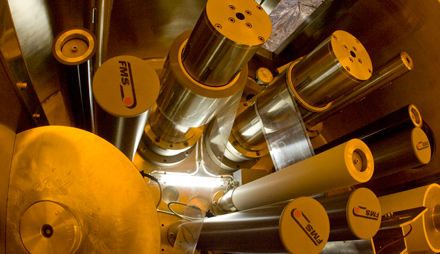 Binghamton University will lead the New York node of a new $75 million, five-year federal initiative to advance flexible hybrid electronics manufacturing.
The U.S. Department of Defense (DoD) chose the Flex Tech Alliance, of which Binghamton University is a founding partner, as America's first Innovation Institute for Flexible Hybrid Electronics Manufacturing (FHE MII).
"The Flex Tech Alliance and Binghamton University have been leaders in the advancement of flexible electronics manufacturing for nearly a decade," Binghamton University President Harvey Stenger said. "This latest news is an extraordinary affirmation of the work being done by the Alliance and of the work being done by our own researchers here on campus."
"Flexible hybrid electronics use both traditional chips as well as printed electronics on plastic, thin glass, paper and fabric materials that can bend. Applications include bandages that can sense when the wound they're covering is infected, as well as wearable patches that monitor human performance," said Mark Poliks, professor of systems science and industrial engineering and director of the Center for Advanced Microelectronics Manufacturing (CAMM).
Other FHE applications include: health monitoring patches, medical devices, sensors, imaging systems, prosthetic devices, energy storage and energy harvesting devices.
The funding, announced Friday, will create the third federal center within Binghamton's Small Scale Systems Integration and Packaging Center (S3IP) and build on the University's capabilities in electronics packaging and roll-to-roll manufacturing.
"Flexible electronics research is an example of what Binghamton University does best," said Bahgat Sammakia, vice president for research and director of S3IP. "This campus has a strong history of bringing academia and industry together to produce innovations that benefit society. We can't wait to get to work with our partners."
As part of the New York node, Binghamton University will work with New York state companies including Corning, Inc., i3 Electronics, General Electric and Lockheed-Martin to develop and manufacture this new technology. More companies are expected to join the initiative. Cornell University and the SUNY Network of Excellence in Materials and Advanced Manufacturing, representing all four SUNY research campuses, are also expected to participate.
The New York node will work closely with the Flex Tech Alliance to develop roadmaps and project plans. Selected projects are expected to begin early in 2016.
A handful of academic and private-sector jobs are expected to be created in the first two years of the program, with the potential for hundreds of new jobs coming online when new manufacturing initiatives hit the production stage.
The University and its partners will work to develop and then transfer advancements in flexible electronics from the lab to the commercial market. Binghamton and its collaborators have already experienced manufacturing successes and many more are expected to result from this investment. Some of the successes so far include: electronic packaging and reliability, thermal interface materials, thin chip-on-flex electronic systems-in-package technology, power conversion electronics packaging, biomedical and diagnostic electronics, human performance monitors, sensory systems, thin flexible glass for use in flexible electronics and displays, and functional glass surfaces, such as arrays of transparent antennas and touch-sensitive surfaces.
This new institute is part of the National Network for Manufacturing Innovation program (NNMI). The FHE MII is the seventh MII announced — the fifth under DOD management. The NNMI program is an initiative of the Obama administration to support advanced manufacturing in the United States. Each institute is part of a growing network dedicated to securing U.S. leadership in the emerging technologies required to win the next generation of advanced manufacturing.
The DoD leadership team includes technical direction from the Air Force Research Laboratory (AFRL), the Army Research Laboratory (ARL), the National Science Foundation (NSF) and the National Institute of Standards & Technology (NIST).
Bridging the gap between applied research and large-scale product manufacturing, the institutes bring together companies, universities, academic and training institutions and federal agencies to invest in technology areas that benefit the nation's commercial and defense interests.