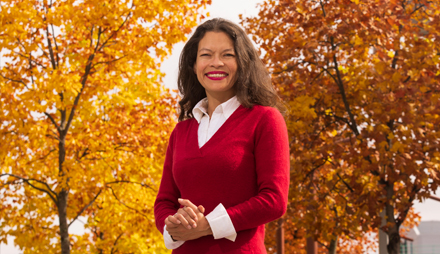 The spark of inspiration behind Marisol Marcin's business concept happened in 2020 during the height of the COVID-19 pandemic. As academia adapted to connecting virtually in the classroom, the Binghamton University lecturer recognized that she already knew how to leverage videoconferencing to help students develop natural language acquisition.
When Marcin worked in Binghamton's Department of Romance Languages and Literatures, she developed a partnership with Instituto Caro y Cuervo in Colombia, a prestigious language, philology and linguistics center that offers several master's degrees. Through this partnership, students at both universities had the opportunity to converse: Students at Binghamton practiced their language, and the students at Caro y Cuervo experienced Spanish spoken as a foreign language. When those Colombian graduate students connected virtually with their Binghamton student peers, she witnessed how naturally the conversations flowed.
"I truly believe that the best way to learn a language is by using it, and it's about being creative in using technology to connect people," says Marcin, who holds a master's degree in integrating technology in the classroom from Walden University and a doctorate from Binghamton's Translation Research and Instruction Program. "Language is for usage. It's not about how many questions you can answer correctly or how many words you have memorized. Not everyone is meant to become a grammarian."
As one of the committee members tasked with revising the New York State standards for world languages, Marcin is aware of the dire need for public school language instructors. She created Lenguas Club (which translates to Languages Club) with the hopes of helping current classroom teachers accomplish their teaching goals while increasing students' proficiency. Her program uses technology to immerse students in Spanish language and culture by involving them in virtual small group conversation sessions led by a native speaker from Instituto Caro y Cuervo.
Marcin, a lecturer in the Global Studies Program, gained strategic guidance on business viability when she went through the Binghamton Accelerator Program, offered by the Division of Research's Entrepreneurship and Innovation Partnerships. She then participated in the regional National Science Foundation I-Corps Program to determine potential customers and to explore business models at the Koffman Southern Tier Incubator in downtown Binghamton.
This semester, less than two years after the initial concept, Lenguas Club is in its first pilot run with high school students in the Binghamton City School District.
"So far I am pleased with the results we are seeing in these classes," says Alice Kiereck, the district's department chair of ELA, ENL, and World Languages for grades 6-12. "Marisol's thorough knowledge of the New York State World Language standards has been an asset as we create a program that will best serve the students."
Getting high school students to actually speak Spanish has always been one of the department's biggest hurdles, Kiereck says. "Initially there was some hesitation around the amount of speaking required in this program," she adds. "However, the instructors have been patient and encouraging, and students have become more comfortable engaging in the work."
The district opted to test a three-day program, which provides conversation club, language lab, bi-weekly deep dives, curriculum alignment and assessment reports. On the days that students do not have virtual meetings, they work with their classroom teacher to deepen their language learning. As the business grows, Marcin hopes to offer other languages besides Spanish and English and envisions future users to include individuals and businesses.