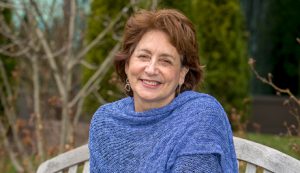 Binghamton University author Liz Rosenberg's latest novel, Beauty and Attention, pays homage to Henry James' masterpiece The Portrait of a Lady while bringing a fresh perspective to the story.
Beauty and Attention (Lake Union Publishing, 2016) unfolds in the 1950s as a recently orphaned young woman from Rochester, N.Y., goes to Europe to renew family connections. Libby Archer's friends expect her to marry her hometown beau, but she seems to long for a grander adventure of some kind. Instead, Libby inherits a large fortune, falls victim to a scheming older woman and ends up married to a casually cruel man who has a young daughter of his own.
"The essence of the original novel is that a woman's only choice is her choice of a spouse," Rosenberg says. "And I tried to think of another time where that was largely true. … I could have done a more feminist take, but what I wanted to do was see what would happen if you took that cage and put it around someone. I wasn't so interested in deconstructing the cage as I was in thinking what that cage would feel like in the 20th century. And by doing that, trying to think about how it may still feel for some women who don't feel that they have the freedom of choice they need and deserve."
Rosenberg says she has loved The Portrait of a Lady for years. She had a long-running debate with her late husband John Gardner and English department colleagues Bill Spanos and Susan Strehle about whether the original book had a happy ending. Decades ago, she even worked the story into a screenplay. The producer who was interested suggested that she modernize the script. And while she initially dismissed the idea, she eventually came to see it as an avenue to revisit a beloved story.
"I love Henry James and I think especially here he creates an incredible cast of complex characters," Rosenberg says. "What happens when you're given freedom in an extraordinary and unexpected way, and then you make poor choices with that freedom? That dilemma really interests me."
In Beauty and Attention, Rosenberg keeps the basic structure of James' plot while switching the locations as well as the time in which it's set. Rosenberg, who lived in Northern Ireland for six months as a Fulbright scholar several years ago, takes the story to Northern Ireland (vs. England), Rome (rather than Florence) and Rochester (vs. Albany).
The new work has a distinctly cinematic feel, thanks in part to the attention Rosenberg devotes to details of fashion. Dresses with telescoped waists, a black Chanel suit, Moondrops lipstick and Bermuda plaids all take their turn on the page.
Rosenberg does tweak the storyline to make Libby's situation more difficult and to create a compelling reason that she stays in a miserable marriage for as long as she does. Secondary characters also morph quite a bit in the update. Libby's chronically ill cousin, Lazarus Sachs, and her best friend, journalist Henrietta Capone, are more modern creatures than could've existed in James' story.
The ending of the original novel is famously ambiguous. Rosenberg thinks James' heroine will eventually be all right, even if she's done with love, but she worked hard to leave her own cast of characters in an undefined state. "I wish I had left it even more open-ended," Rosenberg says. "I wish I had kicked the door open even farther. Maybe next time!"
As a novelist and a poet, she says, she's always rethinking the choices she has made in her work. This project gave her an opportunity to consider other modern retellings of classic books. The Innocents by Francesca Segal, an update of Edith Wharton's The Age of Innocence, is an example of a well-constructed retelling, she says. The Hours by Michael Cunningham isn't a straight retelling of Virginia Wolf's Mrs. Dalloway, but it also succeeds in bringing a new view to a familiar book.
As a professor of English, Rosenberg is especially steeped in the study of literature. "I do love the 19th century novel," she says. "I think the form reached its apex there. Forms reach a kind of perfection. You have great writers like Dostoyevsky and Dickens and Austen, and they do every beautiful thing that can be done. Other people can mess with it, but we're probably all waiting for the next great form. I don't think stories ever die, but they take new forms."