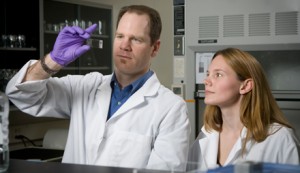 This fall, nearly 100 freshmen will join a new initiative aimed at introducing undergraduates to research from the time they arrive at Binghamton University.
The Freshmen Research Immersion program will provide training in research methods and introduce students to important concepts and laboratory techniques. When it begins, students will choose one of three focus areas: biofilms, neuroscience or smart energy.
"What we're going to offer students through the Freshmen Research Immersion is a deeper educational experience that's going to get them beyond textbook knowledge and help them learn about the excitement of discovery," Provost Donald Nieman said. "They will get out of this process a myriad of skills."
Nieman noted that about a third of Binghamton undergraduates major in science, technology, engineering and math (STEM) disciplines. This program will enable Binghamton to continue to recruit top undergrads, who increasingly expect to participate in research early in their college careers. "We are a magnet for the best students in New York State," he said. "High school students are learning about the importance of research, and we have to have these opportunities front and center."
Nancy Stamp, professor of biology, has led the effort to develop the program and seek grant funding to support it. She said freshmen will be better prepared to jump into research than they have been in the past, thanks in part to new national standards in science education as well as changes in Advanced Placement courses.
In January, she provided an overview of the Freshmen Research Immersion (FRI) program's structure and plans for growth to faculty and staff who have been involved in the initial planning stages.
Stamp envisions a three-semester sequence, beginning with a research methods course in the fall of freshman year, followed by two specialized courses in the freshman spring semester and sophomore fall semester. Some students may participate in a summer fellowship between freshman and sophomore years.
Each research "stream" will be led by three to five faculty members working in a renovated campus lab. A postdoctoral fellow, a graduate teaching assistant and undergraduate peer mentors would work with about 30 freshmen.
The University plans to add three research streams in 2015-16 and three more the next year, with the program reaching full strength of 10 streams by 2017-18. Growth of the program will depend on funding, and Stamp has worked with colleagues to apply for grants from the National Science Foundation, Howard Hughes Medical Institute and other agencies. The New York State Regional Economic Development Council has already awarded $750,000 to support lab renovations.
At the January meeting, the faculty researchers heading up the initial three research areas offered overviews of how they plan to get started.
Christopher Bishop, associate professor of psychology, will lead the neuroscience research stream. Wayne Jones, professor of chemistry and chair of the Transdisciplinary Area of Excellence in smart energy, will lead the smart energy stream. Karin Sauer, professor of biology, will lead the biofilms research stream.
"The long-term objective is to transform the STEM experience for our students," Bishop said. In the neuroscience stream, as in the others, that means incorporating technical and conceptual elements. The goal is to engage students in authentic research experiences in which they're asking questions whose answers are unknown.
Bishop envisions the neuroscience students asking questions such as "Why do Parkinson's disease patients have cognitive dysfunction?" "Does chronic stress increase risk of neurodegeneration?" and "How does exercise protect the brain from insult?" The students and their mentors will then have to develop experiments, likely using a rodent model, to seek answers.
Bishop said: "We want these students to start in science and stay in science."