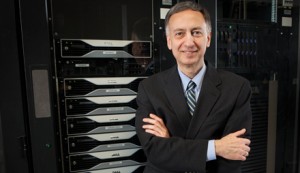 Binghamton University's vice president for research has been named an IEEE Fellow. Mechanical engineer Bahgat Sammakia was chosen in recognition of his contributions to thermal management applications in electronic systems.
Sammakia, a distinguished professor of mechanical engineering, is the founding director of the Small Scale Systems Integration and Packaging Center, a New York State Center of Excellence. Editor of the ASME Journal of Electronic Packaging, he holds 19 U.S. patents and has published more than 200 peer-reviewed technical papers. He is also a fellow of the American Society of Mechanical Engineers and holds a joint appointment in Binghamton's department of systems science and industrial engineering.
"I am both delighted and humbled to receive this honor from the IEEE," Sammakia said. "My research has always been motivated by my desire to have an impact on society, to create technology that really makes people's lives better. This recognition is a sign that I am indeed contributing vital new knowledge to my field.
"It's also an important validation of the investments Binghamton University has made in small-scale systems research," he added. "I wouldn't be able to do the work that I do now without the students, colleagues and facilities that we have here at Binghamton."
Sammakia, a former IBM senior technical staff member, joined Binghamton's faculty in 1998. He earned his bachelor's degree from the University of Alexandria in Egypt and his master's and doctoral degrees from the University at Buffalo.
The IEEE is the world's leading professional association for advancing technology for humanity. The IEEE, which has 400,000 members in 160 countries, publishes 30 percent of the world's literature in the electrical and electronics engineering and computer science fields. It has developed more than 900 active industry standards.
Fellow is the highest grade of membership conferred by the IEEE Board of Directors and is recognized by the technical community as an important career achievement.