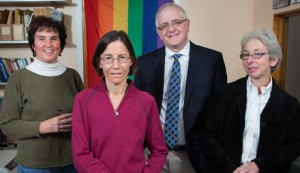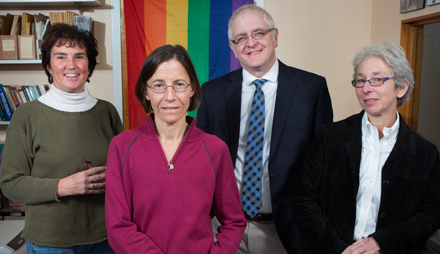 A new $600,000 state grant will provide five years of funding for a community agency that supports same-sex parents and their families. The Lesbian and Gay Family Building Project, founded in 2000, relocated to Binghamton University this month.
The organization provides support, advocacy, information and access to healthcare and services across upstate New York. The project director and faculty members say their collaboration will help families, lead to better pre-professional training and provide new avenues for research.
"Now the program will have a scholarly advisory team who can advise us on our programs and help us evaluate them and improve them," says Claudia Stallman, project director. "The New York State Department of Health is requiring increased rigor in our approach to program planning and evaluation. Our collaboration with social scientists will ensure that we keep up."
Her group has teamed up with Binghamton University faculty members in the past on conferences and training for healthcare providers. The move to campus will intensify their collaboration and provide new opportunities to work with Binghamton students.
"Many of our students and affiliated faculty want to connect our intellectual work with community engagement," says Dara Silberstein, executive director of the transdisciplinary Women, Gender and Sexuality Studies program, which shares office space with the group. "Having this relationship is a natural flow from that. There's a real connection between scholarship and civic engagement."
The Lesbian and Gay Family Building Project works with lesbian, gay, bisexual and transgender (LGBT) people considering adoption, surrogacy and other ways to start a family. The group publishes a provider directory and offers training for educators and health and human service professionals.
It also provides programming for parents and children. "We try to empower parents to advocate for their kids and see themselves as educators," Stallman says.
Sean Massey, associate professor of women, gender and sexuality studies, says he sees the Lesbian and Gay Family Building Project as a resource for Binghamton's professional schools. One key challenge the collaboration might address is a lack of cultural competency among providers and practitioners, he notes. Pre-professional training for nurses, psychologists and others may improve outcomes for families headed by lesbians and gay men.
"A lack of cultural competency among healthcare providers puts stress on families, so having this training early in their education is a form of health intervention," says Massey, a social psychologist who has conducted research on modern prejudice and how it affects same-sex parents.
Susan Seibold-Simpson, an assistant professor of nursing with a background in public health, agrees. She says students working to become nurse practitioners receive training focused on race and ethnicity but often don't learn as much as they should about the needs of lesbian and gay patients.
The Lesbian and Gay Family Building Project's presence on campus may also help Binghamton build a research agenda related to LGBT parenting. Indeed, Stallman and several Binghamton faculty members are already developing a proposal for a National Institutes of Health grant that would support research related to minority stress and healthcare use.
"We can provide resources, and we can make sure the programs they offer are based on cutting-edge scholarship," Massey says. "We can also learn from the practice we're engaged in, and that can inform and stimulate our research."