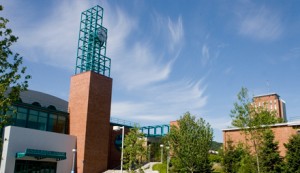 Binghamton University will now offers companies that collaborate on R&D projects an express license agreement.
The Binghamton Express Square Terms (BEST) Deal License is a non-exclusive, royalty-free, paid-up license on patentable inventions that arise from sponsored research.
"This is an innovative new way for us to engage industry partners," said Bahgat Sammakia, interim vice president for research. "We are eager to remain a leader in developing research collaborations with companies around the world, and the BEST Deal can help us do just that."
About 18 percent of Binghamton University's research awards, which totaled $34.9 million in 2010-11, come from business and industry. Industrial support accounted for just 6 percent of academic R&D funding nationwide, according to a 2010 report from the National Science Foundation.
The new time-saving and cost-effective licensing process is a natural result of Binghamton's ongoing emphasis on working with the private sector, said Eugene Krentsel, assistant vice president for entrepreneurship and innovation partnerships. "We listen to industry, in particular through our participation in the University-Industry Demonstration Partnership, and are interested in understanding their needs," he said. "Companies say simplicity, speed and predictability are their biggest concerns about licensing.  We have come up with a solution that will work for both sides of the equation all the way through from invention to innovation."
Participating firms will pay a license fee of $1,000 for each U.S. or foreign patent application filed and made part of the license. They will also reimburse the University for expenses related to acquiring patent rights. Krentsel expects the low-cost deal will appeal to large companies and start-ups alike. "A thousand dollars is a trivial expense when it comes to protecting potentially important discoveries," he said. "Firms could easily spend more than that just on legal fees related to negotiations."
If a third party is interested in a license, that company will be charged no less than what the sponsor was charged plus an additional $1,000. This construct, Krentsel said, provides the original research sponsor with a competitive advantage and demonstrates the University's appreciation of their initial investment in the work. The express license also reduces transaction costs for both sides.
The BEST Deal is available to sponsors on an as-is basis. If a sponsor requests non-standard terms (for example, exclusive commercialization rights to a Binghamton or joint invention), then the parties will engage in traditional, good-faith discussions to set commercially reasonable terms.
"We want partners," said Scott Hancock, director of intellectual property management and licensing. "We're signaling to companies that this is the best deal you can get from us, short of becoming a member of one of our research centers."