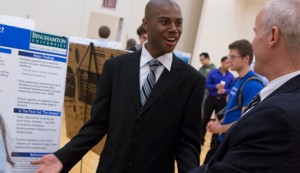 Patience. Thinking outside of the box. Dealing with failure.
These are just some of the lessons that senior William Marsiglia learned from conducting research at Binghamton University. Those lessons helped the biochemistry and music double major receive a Barry M. Goldwater Scholarship for the 2011-12 and 2012-13 academic years.
"The benefits of performing research while taking classes are essential to a student's academic development," Marsiglia said. "We are lucky here at Binghamton University to have so many faculty members who are doing high-level research with students who gain experience.
"Although our university is already achieving outstanding research, it's exciting to know that it's only going to get better."
Marsiglia, who has worked with chemistry professor Christof Grewer on the study of transport proteins in the brain and also won the Music Department's Concerto Competition, delivered the student address at the Research Days celebration April 19.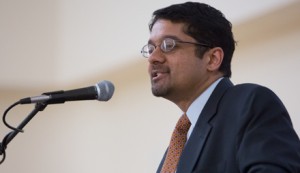 Research Days, a series of events showcasing University research, scholarship and creative activity, took place April 17-19. The schedule included faculty panels, tours of research facilities and a keynote speech by NPR science correspondent Shankar Vedantam. The Friday celebration in Old Union Hall recognized Marsiglia and more than 30 other student researchers and their faculty mentors.
"We bring together the essential elements of a great university," Provost Donald Nieman said. "We bring together bright, curious, hard-working students with faculty who are passionate about teaching and mentoring, and are engaged in cutting-edge research that is recognized by their peers and around the world."
Student work takes center stage
More than 90 undergraduate and graduate students presented their work in two student poster sessions held April 19.
Phillip Emeritz, a senior majoring in history, English and classical civilization, displayed a project that examined Romanization in Ancient France and how currency was introduced to the Celtic society. "I focused on the social and cultural impacts, because the coins were basically used as propaganda with the images and inscriptions on them to implant Roman values into the minds of natives in France," said Emeritz, whose project earned him one of the two initial Summer Scholar awards in 2012.
Emeritz's project, titled "Changing Money, Changing Minds," documents how the introduction of currency to France affected culture and class distinctions. The topic stems from Emeritz's interest in classical studies.
"I am very passionate about classic studies, and Roman history has always been my favorite," said Emeritz, whose faculty mentor is Andrew Scholtz, associate professor and chair of classical and Near Eastern studies. "And I am very interested in Celtic societies because, although they've been classified as primitive in the minds of Romans, their societies are a lot more complex than they're given credit for."
While Emeritz studied societal issues in a historical context, other students examined how technology can impact the future.
Zachary Birnbaum and Patricia Moat, both first-year doctoral students, conducted a project on computer security. Their faculty mentor is Victor Skormin, distinguished service professor in electrical and computer engineering. "You keep hearing in the news that there are various websites getting hacked and all these problems with new computer viruses," Birnbaum said. "We're trying to find new ways of detecting this type of attack."
Titled "Intrusion Detection Systems: Object Access Graphs," the project focused on tracking computer viruses. "What we do is take a picture of what your computer is doing, and then we compare a picture of your computer behaving normally to one of an infected computer. Then, we just look at the differences," Birnbaum said. "From that, we can see if your computer has an infection, what type of infection, and from there you know you're under attack and you can take action."
Other student-presenters, including Jessica Huey, took a medical approach to their projects. "I'm a part of a larger lab that's doing research in Lyme disease," she said. "So what I did specifically was (study) Lyme disease in canines and other tick-borne diseases."
Huey, a senior majoring in biology and anthropology, worked with Ralph Garruto, research professor of anthropology, on her project, "Prevalence of Tick-Borne Infection in a Canine Population Sample."
While Huey hopes that her research raises awareness about Lyme disease, some students aimed to raise awareness of immigrant assimilation. Jillian Shotwell, Tara Perkins and Fédia Louis were among about a dozen students who got involved with the Binghamton community. They went to the American Civic Association in Binghamton, where they interviewed refugee students in ESL classes as well as their teachers to get their opinions on learning and teaching English.
"We just wanted to get their perceptions. For the teachers, why they began teaching ESL and what the biggest challenges were. So that's what this poster is about," said Shotwell, a double major in environmental health and geography. "(A second poster) is about the students' perspective and how they think that the classes could be improved. What did they like most about learning English? What were the challenges in learning English?"
Shotwell said that to conduct the quantitative study, she and her fellow group members recorded interviews with the students and the teachers. The initiative to do this project came from an Africana Studies course, Refugees and Immigrants Health, taught by Titilayo Okoror.
"I think just knowing how these experiences affect the students and the teachers alike is beneficial in approaching immigrants, because not everybody can speak English," said Perkins, a sophomore majoring in bioengineering. "Many of them were actually PhD students and business owners in their own countries. Then they came here and they can't speak English, so they're kind of at a disadvantage."
Productive partnerships
Sponsored by the Undergraduate Research Center, the Division of Research, the McNair Scholars Program and Academic Affairs, Research Days highlighted student and faculty successes, Vice President for Research Bahgat Sammakia said. Research success is necessary for Binghamton University to become the premier public university of the 21st century, he noted. "The great thing about research today is that it is starting to blur between departments, between schools, and even between graduate and undergraduate students," he said. "It is wonderful to see. It is exciting."
Nieman stressed the importance of students engaged in research with faculty mentors. "This creates a rich opportunity for our students to apply what they've learned in the classroom to original research," he said. "By doing so, they are able to join in the process of creating new knowledge – something that is at the heart of what we stand for and do every day as a university."