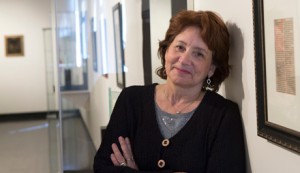 Liz Rosenberg's latest novel, The Moonlight Palace, enjoyed a period atop the Kindle best-seller charts this fall.
"In terms of publishing, my goal was always to reach as many readers as possible," says Rosenberg, a Binghamton University author who found her moment on the best-seller list surreal. "I think that e-books have allowed access to books for people who can't afford $30 for a hardcover. I love it that books are more affordable now."
The Moonlight Palace, from Lake Union Publishing, was released in October. Thanks in part to a special "Kindle First" promotion and a 20-city virtual book tour, it has already reached a wide audience — more than 100,000 readers in the first month of pre-publication.
The book, set in 1920s-era Singapore, is a departure for Rosenberg, better known for two novels set in modern New York state as well as poetry and children's books. Inspiration struck when she visited Singapore a few years ago and heard about a palace that had been allowed to fall into disrepair. "I found myself thinking 'What would it be like to be the last member of that family, living in a house you know is falling?'" she recalls. "And then this 17-year-old girl came into my life!"
That teenager blossomed in Rosenberg's imagination into independent-minded Agnes Hussein, who is determined to find a way to save the crumbling Kampong Glam Palace. The coming-of-age story traces the orphan's adventures in romance and finance, while providing lots of colorful detail about life, politics and culture in Singapore nearly a century ago.
"I've always been intrigued by the 1920s as this time of enormous change," Rosenberg says. "In a way, it's a very forward-thinking time. There's a lot of chaos and confusion; it's very modern. There are all kinds of new freedoms coming about."
Rosenberg says she knew only a few bare-bones details about the historical family that owned the palace. In fact, she didn't want to know too much! "It would've hampered my ability to invent," she says. "There's something l love about working with fiction but being able to touch base with reality. It's a springboard. It seems to give a new lift, in the sense of energy and height, to your ability to leap away."
The novel references the Communist movement of the 1920s as well as elevators, cars, jewelry, the flu pandemic and newspaper journalism. "It's a book about empire," Rosenberg says. "The story of Singapore is the story of a country that was literally bought and paid for."
Rosenberg delights as always in her minor characters, including a would-be terrorist, colorful businessmen, a sharp-eyed editor and Agnes' multicultural extended family. There's also a British villain and an American hero.
"I have always said, 'Write the book you want to read,'" Rosenberg says. "I owed my readers a non-tragedy after The Laws of Gravity. I knew I didn't want it to be sugary, but I did want it to have a lightness and sparkle to it."
Rosenberg says she writes for insomniacs and people in scary doctors' waiting rooms. "I want to write the kind of books that will keep people company, in the deepest sense," she says. "Books have saved me in those situations. I owe a serious debt."