Congrui Jin, an engineer whose research could one day lead to self-healing concrete, took top honors in the 2018 Art of Science competition at Binghamton University.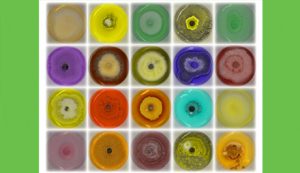 Jin, an assistant professor of mechanical engineering, submitted an image called "Plates" that featured petri dishes of different species of fungi. She and her colleagues are exploring whether fungi could be used as a self-healing agent to promote calcium mineral precipitation to fill the cracks in concrete.
The image took first place in "The World Around Us," a category featuring subjects visible to the naked eye, and was named Best in Show as well.
Students, faculty and staff also competed in two other categories: "Visualizing the Unseen," images captured with the use of optics that extend beyond what the eye can see, such as microscopes and telescopes; and "Imagining Science," images that depict objects too small to be visualized directly, models of scientific phenomena or processes or interpretations of scientific information.
The second-annual competition was coordinated by Martha Terry, creative services manager in the Office of Research Advancement. Winners were announced during Binghamton Research Days.
Second- and third-place recognition in "The World Around Us" also went to faculty members: Chengbin Deng, assistant professor of geography, took second with "Nighttime Binghamton University Campus," while Jessica Fridrich, professor of electrical and computer engineering, took third place with "Eclipse."
In "Imagining science," first place went to Alex J. Feingold, professor of mathematical sciences, for "Amzakoe Genus 3 Triple Link," while Sara Grills took both second and third place for stratigraphy images related to her work for the Public Archaeology Facility, where she is a project manager.
"Visualizing the Unseen," meanwhile, was dominated by an undergraduate who designed his own major. First- and second-place honors went to Zachariah P. Liebmann, who entered images he took while studying organic matter and how it presents itself under ultraviolet light.
Third place in that category went to graduate student Tong Yang and her mentor, Jeffrey Mativetsky, assistant professor of physics. Their image, "Alien Tunnels," was captured with an optical microscope and featured crystals formed by depositing and drying an "ink" composed of organic semiconducting molecules dissolved in a solvent.
This year's judges were Surinder Kahai, associate professor, School of Management; Blazo Kovacevic, assistant professor of art and design; Matt Mendelsohn '85, photojournalist, portrait photographer and writer; Kevin E. Paredes '18, photography editor, Pipe Dream; Pamela Smart, associate professor of art history/anthropology; and Ewelina Zajac-Holdrege, founder and creative director, Idea Kraft.
See a slideshow featuring all of this year's entries online at https://youtu.be/vQIx8bTDkiI.