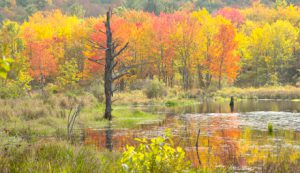 Binghamton University recently joined the Chesapeake Watershed Cooperative Ecosystem Studies Unit (CHWA CESU), a network of nine federal agencies and several dozen research institutions that strive to understand and protect the region's natural and cultural resources.
Carl Lipo, associate dean for research and programs in Harpur College and director of Binghamton's Environmental Studies Program, championed the campus' involvement with the CESU, which was founded in 2001.
"Binghamton has some unique capabilities that will be of value to the Chesapeake Watershed network, especially related to historic preservation, geospatial technology and watershed studies," says Lipo, who will be the University's technical representative to the group. "We're excited to make a contribution to this group and to learn from the other scientists at our partner institutions."
Binghamton is the only New York school in the network, which also includes Pennsylvania State University, several University of Maryland campuses, Ohio University, the University of Virginia and others. Binghamton's location along the upper Susquehanna River provides a prime location for the study of natural and cultural resources in the Upper Chesapeake Bay Watershed as well as the rest of the region.
Michael Jacobson, research development specialist in Binghamton's Office of Strategic Research Initiatives, attended the CESU's June meeting, held in West Virginia.
"It was great to see the numerous projects already conducted by the CHWA CESU and how well the partnerships work," Jacobson says. "It gave me some interesting ideas about how Binghamton's researchers can contribute to the network."
The research network streamlines the process by which universities learn about federal agencies and opportunities to conduct sponsored research. Research institution partners provide leadership in watershed science and stewardship with special emphasis on the watershed of the Chesapeake Bay.
The Chesapeake Watershed's 64,000 square miles are home to more than 3,600 species and over 15 million people.