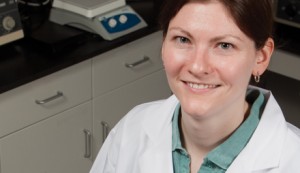 Most days around 8:30 a.m., Kristin Dupre arrives at a Binghamton laboratory that focuses on Parkinson's disease research. She performs behavioral tests, prepares slides, examines samples, reviews recent literature and writes. Her favorite work, though, is crunching the numbers.
"The best part is analyzing the data and seeing what all your hard work has given you," said Dupre, who expects to receive her PhD in psychology in 2011.
Dupre received a competitive National Research Service Award in 2009 through the National Institute of Neurological Disorders and Stroke, part of the National Institutes of Health. The two-year grant of about $40,000 annually has provided her with more freedom to test possible ways to reduce the abnormal movements associated with Parkinson's disease treatment. The project will advance her career even as she continues to make contributions in the laboratory of her mentor, Christopher Bishop, an associate professor of psychology at Binghamton.
Dupre's experience illustrates just a few of the many reasons that graduate students are keystones of any serious research institution. They serve important roles in laboratories and classrooms, become mentors to undergraduates and are essential to the process of transferring knowledge to the wider world.
"Graduate students play a crucial role in moving research forward," said Gerald Sonnenfeld, vice president for research at Binghamton. "Their spirit of inquiry and the work they do with their mentors keeps things moving."
Graduate students' contributions vary widely, of course. A PhD candidate in history is gathering oral histories, while her peer in the psychology department spends much of every day in the laboratory. There's field work, data analysis and writing to be done, too.
"Graduate students become junior colleagues," said Nancy Stamp, dean of Binghamton's Graduate School. "They are able to intellectually engage in discussions and collaborations and often contribute in insightful ways."
Krishnaswami "Hari" Srihari, dean of the Thomas J. Watson School of Engineering and Applied Science, has worked with graduate students for more than 20 years through what's now called the Watson Institute for Systems Excellence, or WISE. Its students work on sponsored research projects at companies and in hospitals from coast to coast and in Greater Binghamton.
Increasingly, WISE's students are PhD candidates. "Twenty years ago, you could work in a research-and-development environment with a bachelor's," Srihari said. "By the mid-1990s, you needed to at least have a master's. Today if you're going to work in R&D, a PhD is a must."
Research experiences during graduate school are an important component of career preparation, Srihari said. Students need to see what it's like to work in a dynamic, culturally diverse environment, he said, so that when they graduate they're prepared to work with partners around the world. "The student is both our customer and our product," he said. "We have to make sure that he or she finds excellent opportunities to go forward."
David Sloan Wilson, director of Binghamton's unique Evolutionary Studies program and author of several books about evolution, said his goal as an adviser is to create "a fertile environment where people can grow." In evolution, he said, the work is conceptually oriented and students can make an immediate impact by applying an idea to new domains.
When one of Wilson's former students published a paper in the prestigious journal Science late last year, it was a triumph for them both.
Lead author Omar Tonsi Eldakar received his PhD from Binghamton University in 2008. He worked with Michael J. Dlugos, then also a Binghamton graduate student, on the experiment that made its way into Science. They demonstrated that, given a choice, female water striders will group themselves around well-behaved males rather than their more aggressive counterparts.
"The original title of the paper was 'Nice Guys Don't Always Finish Last,'" Eldakar said. "I find that statement to be quite descriptive of the project."
Eldakar brought an understanding of altruism to the project; Dlugos had experience working with water striders. "In Binghamton we have a close community of graduate students," Eldakar said. "They're not too busy competing with each other; they'll actually work together and collaborate. There's a lot of innovation."
Stamp sees graduate students as a core part of the campus ecosystem. They become role models for undergraduates and may be more approachable than senior faculty members when a student has a question or problem. "Part of our training of them is that they learn to supervise other people and how to train them, coach them, mentor them," she said. "It doesn't matter what their career track is; that's really important."
Of course, graduate students also help the University hire and retain the best faculty. And those faculty are part of attracting the best undergraduates. Each part of the system depends on the others.
After graduate students earn their degrees, they have one last vital mission for the University. "They are," Stamp said, "one of the major mechanisms by which the University transfers its knowledge and discoveries out into the world."