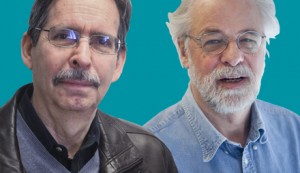 Two Binghamton faculty members have been selected as recipients of the Guggenheim Fellowship, a prestigious midcareer award given to support creative research and art projects.
Gerald Kutcher (photo, left), associate professor and chair of the History Department, and Vincent Grenier (photo, right), undergrad director of the University's Cinema Department, received a combined $68,000 in grants to assist their planned works.
The award, endowed by the John Simon Guggenheim Memorial Foundation, is given to up to 220 people nationwide each year out of a pool of 3,500-4,000 applicants, according to the foundation's website. Candidates are chosen by past fellows, who recommend applications to the Foundation's Committee of Selection, before being approved by their Board of Trustees.
Kutcher plans to use his $35,000 grant to finance research costs to write a book, which has the working title High Expectations: A History of Cancer Therapies.
Beginning in 2011, he will travel to archives in England and Texas, to Stanford University and Varian Medical Systems in California, and to a source on the development of breast cancer therapy in Chicago. From this archival research, he hopes to gather enough information to document a modern history of cancer treatments.
"One of the themes of the book is that the expectations are very high for cancer research and the reality is not as what is expected," Kutcher said. "Advances in medicine are very grudging."
But rather than being a social history on the subject, the book will take a perspective focusing on the practices and research efforts of the practitioners who are treating patients firsthand.
"I'd like to convey an appreciation to the reader about what those things are like rather than to write an intellectual history," Kutcher said. "This is a history of science in the making."
Kutcher, who came from a career in medicine before becoming a history teacher at Binghamton, said the idea for the book originated from a monograph he wrote about Cold War radiation.
"I wanted to cover a wider range and my background previous to becoming a historian was cancer research and treatment," he added. "This was an area I thought I have some expertise in and perhaps bring a unique perspective to the subject."
Grenier received $33,000 for the development of two experimental short videos. Since 1974, Grenier has created 41 non-commercial films, videos and installations, which have been shown at festivals across North America and showcases including the Museum of Modern Art. The subjects of his films range from using production effects to highlight a bird's movement in nature to focusing on the textures of objects.Grenier said one of his recent interests is color, and how people relate to it in their environment.
In his video Color Study, he uses digital effects to transform frames of fall foliage on a mountainside into various colors, creating a short time lapse of the changing scenery before moving into abstract and radically colored images.
"I'm not interested in dealing in color in a way where I would use extraordinary effects," he said. "I try to work the image in such a way that other things happen."
Grenier said his work is dependent on a process of discovery where much is decided at the moment of filming or later during editing. Although the subjects of his two upcoming films are undetermined, he plans to use the funding to buy equipment, finance production costs and create copies of the films when completed.
"Experimental filmmakers work on their films similar to the way sculptors or contemporary painters approach their work," Grenier added, noting the openness to the ideas for the projects.