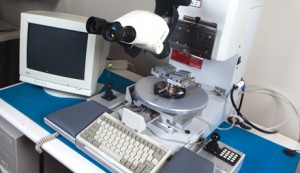 Binghamton University's Integrated Electronics Engineering Center (IEEC), a New York State Center for Advanced Technology in electronics packaging, in conjunction with GEI Global Research, GE's central technology development arm, and the IEEE Component, Packaging and Manufacturing Society, will play host to the annual Electronics Packaging Symposium on Oct. 10 and 11 at the Holiday Inn Arena on Hawley Street in Binghamton.
The symposium will bring together leading researchers from academia, national labs and industry to focus on electronics packaging, a field that encompasses all components of computers, cell phones and other electronic devices, except for the integrated circuit or chip. Topics will include packaging trends, thermal management, 3-D packaging, sensors, electronics packaging for harsh environments, miniaturization and flexible/printed electronics.
The symposium will include a student poster session, a technology showcase spotlighting local industry, a networking reception and a dinner speaker.
For registration details, click here.


For additional information, contact Bill Infantolino, associate director of the IEEC, at
binfanto@binghamton.edu
or 607-777-4349.