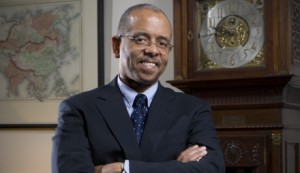 Binghamton University political scientist Ricardo René Larémont will receive $100,000 to support his next book project through a prestigious and competitive fellowship program offered by the Carnegie Corporation of New York.
Larémont, professor of political science and sociology, is one of 21 Carnegie Scholars for 2007. Each will receive grants of up to $100,000 to pursue Islam-centered research themes during the next two years.
Larémont has written several chapters for a book to be titled Islamic Law and the State in Nigeria.
"What I am examining is the role of Islamic law in providing legitimacy for different governments, from the pre-colonial era to the post-colonial era," he said. "I'm tracing the relevance of Islamic law, both in terms of social and political identity, especially in the north of Nigeria."
Islamic law was the de facto law of northern Nigeria from about 1804 until about 1960, Larémont said, including the period when the country was a British colony.
The book will also examine what happens in a society divided roughly evenly between Muslims and Christians. "The interesting intellectual and political challenge," Larémont said, "is how do you talk to and engage with the masses and with political elites so they can reconcile these two rather different philosophical and political orientations in terms of what the law should be in a society?"
Muslims, he noted, believe it's impossible and possibly even heretical to divorce Islam from government. Christians often have a murkier view about the separation of church and state. "What we can learn in Nigeria may have applications for other societies and states that are similarly split on religious questions," Larémont said.
The Carnegie funding will allow him to spend several months in Nigeria during the next year. Larémont, who recently wrapped up five years as chair of the Binghamton University Sociology Department, plans to take a year of chair's leave as well as a one-semester sabbatical to focus on the book project.
Candidates for the Carnegie Scholars Program are first identified by a distinguished group of nominators, then are evaluated and selected by a committee of Carnegie program leaders and external advisers.
Larémont is author of Islam and the Politics of Resistance in Algeria, 1783-1992. He also edited Borders, Nationalism, and the African State and The Causes of War and the Consequences of Peacekeeping in Africa.