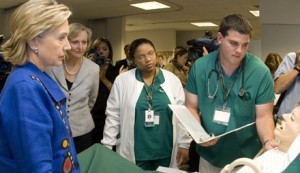 Sen. Hillary Rodham Clinton this week highlighted the Decker School of Nursing, home to the nation's only doctoral program in rural health, as a leader in nursing education.
"It is, in effect, creating the mold for others to follow," Clinton said during a Monday visit to the campus. She met with University officials and leaders from the Greater Binghamton health-care community to discuss the nation's nursing shortage and rural health concerns.
"The Decker School has had an emphasis on rural health since it was founded," University President Lois B. DeFleur noted.
Clinton recently reintroduced a bill that aims to increase the nurse workforce in rural areas, expand nursing school faculty and develop initiatives to integrate patient safety practices into nursing education. The Nursing Education and Quality of Health Care Act would provide funds for grants and programs in rural areas to enhance the recruitment and retention of nurses as well as nursing students and faculty.
"We may be facing a nursing shortage today, but we are setting ourselves up for a nursing crisis if we don't address this issue now," said Clinton, a New York Democrat who is seeking her party's nomination to run for president.
According to the senator, New York will need 80,000 nurses in the next 10 years. Meanwhile, schools such as Decker don't have the capacity – in terms of both faculty and facilities – to educate all the qualified candidates who apply.
As she toured the Decker School's Innovative Practice Center, Clinton spoke with students and faculty and even tried her hand at the lab's simulations. She used a stethoscope to listen to the "heartbeat" of a SimBaby and felt the "pulse" of a SimMan.
"It feels real, doesn't it?" she said with surprise, nodding at a student next to her.
Joyce Ferrario, dean of the Decker School, said the meeting with Clinton was productive. "I was astounded at her grasp of the issues we have, not only in nursing but in health care more broadly," she said.
Ferrario noted the Decker School faces the same challenges as nursing programs all around the country.
The profession hasn't made it a priority to train educators; very few nurses have doctoral degrees. In addition, faculty salaries can't compete with those in industry. And nursing school facilities aren't simple classrooms; colleges must have expensive high-tech learning labs as well as relationships with hospitals where students can gain clinical experience.
Terri Parkin, who graduated from the Decker School in May, now works for United Health Services. "My experiences at Decker have allowed me to become a cognitive and compassionate individual," she told Clinton and others during a press conference.
Parkin, who grew up in New York City, said she views lifelong learning as critical to her work as a nurse. "Rural communities depend greatly on family and friendship," she added, "and I have decided to incorporate that into my practice every day."