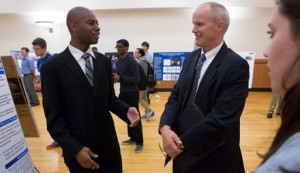 Dozens of undergraduate and graduate students will present their scholarly work during Binghamton Research Days, to be held March 26-29 on campus. The schedule of events also includes a keynote speech by a noted bioethicist and a symposium on environmental genetics.
This year's keynote will be delivered by Jonathan D. Moreno, a philosopher and historian who specializes in the intersection of bioethics, culture, science and national security. His talk, titled "Mind Wars: Brain Science and the Military in the 21st Century," begins at 7 p.m. March 26 in the UU-Mandela Room and will be followed by a book signing.
Moreno, the David and Lyn Silfen University Professor of Ethics at the University of Pennsylvania, is also a senior fellow at the Center for American Progress in Washington, D.C. In his talk, he will explore the role of the national security community and the field of neuroscience in preparing the military and intelligence services for the 21st century. Super soldiers; drugs that ease fear, alter memories and reduce the need to sleep; internal and external neurostimulation; advanced prosthetics and other initiatives may change the nature of warfare and raise many complex ethical, legal and social issues.
"Research Days gives the University an opportunity to celebrate the accomplishments of our researchers at all levels," said Donald Loewen, vice provost for undergraduate education and chair of the group that organizes Research Days. "It's also a way to help undergraduates recognize the role of research at the University."
Donald Nieman, provost and executive vice president for academic affairs, said faculty members across the disciplines are encouraged to take several minutes during class to introduce themselves as scholars. "Bringing research and teaching together enriches learning, nurtures critical thinking and communication skills and helps students understand how knowledge is created," he said.
Binghamton students will have several opportunities to present their work during Research Days. Two campus-wide poster sessions are planned March 28 in the UU-Mandela Room, one at 11 a.m. and another at 1 p.m. Each will feature more than 40 student posters focusing on research in the sciences, engineering, social sciences and humanities.
Other Research Days events include:
A workshop focused on research funding opportunities for graduate students and post-doctoral associates. The session, organized by the Office of Sponsored Programs, will run from 10:30 a.m.-noon March 27 in UU-215. Staff members will highlight funding opportunities for graduate students at any stage.
An Environmental Genetics Minisymposium and Poster Session, to be held from 3-5 p.m. March 27, in UUW-324. This event, sponsored by the Transdisciplinary Area of Excellence in Health Sciences, seeks to build a community of researchers on campus with a shared interest in gene by environment interactions.
A special installment in the Faculty Breakfast Series focused on conducting research with students, to be held at 8:30 a.m. March 28 in the Chenango Room.
Newing College Research Day, to be held from 2-4 p.m. March 29 on the Newing side of the Chenango-Champlain Collegiate Center.
For more information about Research Days, which is sponsored by the Provost's Office, the Division of Research, the Undergraduate Research Center and the McNair Scholars.