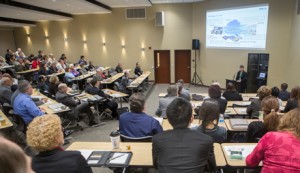 Every two days, the world generates as much data as there was in existence until 10 years ago. And while this data has enormous potential, it sometimes feels like we're drowning in it.
That was just one of the observations shared during the third-annual Innovation Day at Binghamton University. The April 24 event, which drew about 125 participants from industry and academia, focused on Big Data and how it relates to fields ranging from healthcare to finance. The program, organized by the Office of Entrepreneurship and Innovation Partnerships in conjunction with Binghamton's Center of Excellence, featured plenary lectures and panels as well as tours of the Innovative Technologies Complex and a research poster session.
Hao Wang, vice president of information services and chief information officer of the Research Foundation for SUNY, kicked off the day's lectures by noting that — in some ways — Big Data is nothing new.
Wang, who used to teach public health, said Big Data can be traced back to London's cholera epidemic in the 1850s. Dr. John Snow did visualization work by hand, plotting deaths over time on a map of London. He lacked today's advanced instrumentation and computer modeling, but Snow was able to reveal the source of the cholera outbreak. "Don't be afraid of Big Data," Wang said. "… The application is profound. You don't need microbiology to understand this. Big Data can show you the way."
Today, Wang envisions Big Data being used to protect the financial system, to enable drug discovery and to improve public safety, among other applications.
Katharine Frase, vice president and chief technology officer, IBM Public Sector, spoke about extracting real value from Big Data. Even if it doesn't feel like it, Big Data affects all of us every day, she said.
Frase discussed a recent IBM survey of CEOs that found a third make decisions based on untrustworthy data and that half lack information they need. At the same time, 60 percent said they have too much data. "This," she said, "is in some ways the real Big Data problem."
Big Data is often defined by the four Vs, she noted: volume, variety, velocity and veracity.
Although reporting — a major source of Big Data — is important, Frase noted that it's vital to be "more right, more often." Reporting can be like driving while looking in the rear view mirror, she said. It's more interesting, not to mention safer, to look through windshield and see what's coming.
While experts often discuss intangible benefits of Big Data, it has important implications in the physical world, Frase said. For instance, ConocoPhillips reported $1 billion in savings from accurately predicting ice floes, which resulted in better protection of its oil rigs.
She offered a few additional examples of businesses getting value from Big Data projects:
Sprint saw a 90 percent increased transaction capacity.
Qualcomm reported 60 times faster query performance.
MoneyGram saw a 72 percent reduction in fraudulent claims.
Frase said Big Data will produce traditional return on investment, or ROI, in some cases. In other instances, the scenario is more complex. For instance, resolving a problem related to traffic may also alleviate pollution and reduce accidents.
She suggested that data scientists will have the "sexiest job of the 21st century." These jobs, she said, will require people who have the domain expertise to ask useful questions as well as the math and computer science expertise to put Big Data to work.
"Technology is really good at finding answers," Frase said, "but the humans ought to be the ones asking the questions."
In the afternoon, Innovation Day featured a self-proclaimed Big Data naysayer: Scott L. Zeger, professor and vice provost at Johns Hopkins University. "Where there's too much data, there can be more confusion than clarity," he said at the outset of his talk on Big Data in health.
He presented a reworked version of a song called "Help the Poor" by B.B. King and Eric Clapton. With a little assistance from YouTube, Zeger soon had everyone in the Center of Excellence's new symposium hall singing along:
Help the poor
Won't you help poor me
Got Big Data blues, baby
Need your help desperately
Big data's the rage but it's hard to use well
Got to get onboard before that trend does quell
Help the poor
Oh baby, won't you help poor me
Many countries are healthier than we are, Zeger said. Yet the United States spends a trillion dollars more per year on health than Norway, the country that spends the second-largest amount. That trillion dollars? That's the Big Datum, the one that matters the most, he says.
Zeger outlined some problems of the American system, chief among them a healthcare system that too often "pays for doing" rather than paying for results. We do a lot more than is done elsewhere, especially for patients with chronic conditions, he said, even though it often doesn't make people healthier.
"Big Data," he said, "can help us cut into that trillion dollars."