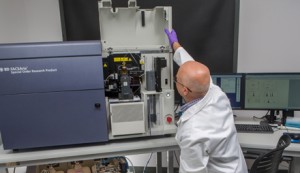 A gift from the Dr. G. Clifford & Florence B. Decker Foundation will enable Binghamton University biologists and their colleagues to conduct tests and research that will improve health outcomes for patients in Southern Tier hospitals with conditions ranging from ear infections to cancer.
The Foundation's donation of $333,901 enabled the University to purchase a fluorescence-activated cell sorter. This key piece of equipment, typically used in cellular biology and microbiology research, will help establish the Health Sciences Core Facility, a multi-user laboratory open to campus researchers and their partners in healthcare and industry, especially those at Lourdes and UHS Hospitals.
"The Health Sciences Core Facility will strengthen collaborations between our faculty members and community researchers from Lourdes, UHS and elsewhere," Binghamton University President Harvey Stenger said. "They will be able to discuss their findings and share their expertise and data. Our Analytical and Diagnostics Laboratory has been a successful model for laboratory research. Many of our partners treat it as a virtual extension of their own research and development infrastructure. We hope this new facility will fill a similar niche for research in the health sciences."
One initial focus for research conducted at the Health Sciences Core Facility will be biofilms, which are implicated in 80 percent of infectious diseases. Biofilms — communities of bacteria in self-produced slime — pose a major challenge in healthcare because of their extraordinary resistance to antibiotics.
"A cell sorter will enable us to tackle the problem of biofilm resistance by allowing us to separate resistant and virulent bacteria from the general population and determine what genetic and regulatory mechanisms these bacteria use to survive and grow within the host," said David Davies, an associate professor of biological sciences at Binghamton.
The fluorescence-activated cell sorter allows researchers to separate a mixture or population of cells into subpopulations. For example, it can sift cancer cells from healthy cells or separate disease-causing bacteria from harmless ones. The machine does not kill cells during the process, which will allow researchers to study viable subpopulations of cells. Using other tools in the same laboratory at the University's Innovative Technologies Center on Murray Hill Road in Vestal, researchers will be able to determine the proteins that these subpopulations produce or identify mutations using DNA sequencing.
The Decker Foundation is one of the University's largest lifetime donors. Speaking on behalf of the Decker Foundation board, Executive Director Gerald Putman said the foundation is pleased to provide this gift to Binghamton University and support its plans to become a premier public university of the 21st century. "This purchase will help advance important research," Putman said. "The cell sorter puts the campus in the company of an elite peer group and also increases its impact on community healthcare, one of our Foundation's key goals."