Ron Miles summed up the theme of the Binghamton Research Days' keynote program with a quote from Albert Einstein: "If we knew what we were doing, it wouldn't be research."
Miles, associate dean for research in the Thomas J. Watson School of Engineering and Applied Science, was one of several speakers at the keynote event and poster session on April 25. The program was the central event of Binghamton Research Days.
"What determines whether you're a researcher or not is how you respond to the realization that you don't know what you're doing," said Jean-Pierre Mileur, interim provost and vice president for academic affairs. "If it panics you and frightens you and it doesn't draw you on to approach your own ignorance as a problem to be manipulated and solved, then you probably belong in another line of work.
"But all the people who have spoken today share that response, that curiosity in response to the knowledge of their own ignorance," he said.
Omowunmi Sadik, professor of chemistry, briefly led the audience through the development of anesthesia through anecdotes about researchers Humphry Davy and Alexander Williamson. Davy frequently inhaled nitrous oxide to experiment with its effects, and Williamson tested the effects of ether on himself by placing an ether-soaked handkerchief on his face while alone in his office.
The researchers Sadik mentioned headed where others had never been before, and in many ways, so did all of the speakers.
"Don't be afraid to chart your own course, to let your research interests take you where they are headed, even if others haven't gone that way before," said Thomas Dublin, distinguished professor of history. "Trust your inclinations; trust yourself to figure out how to do the work that results from your choices."
Most of the speakers believe research is valuable because it challenges the limits of knowledge and goes beyond what can be learned from a textbook.
"We spend so much of our time learning little tiny tidbits of information," said Miles, a distinguished professor of mechanical engineering. "We study, we do homework, we look in the back of the book to make sure the answer is there, … and then you get to college. You discover that in this world, the answer isn't always in the back of the book. You need to discover what is true, what is right, and then you realize that you really don't know for sure if anything you've done is right, and that's really unsettling."
The keynote program was bookended by a poster presentation session. Undergraduate and graduate students presented research in subjects ranging from psychology to art history to microbiology.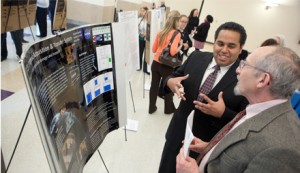 Robert Dextre, a senior majoring in mechanical engineering, was both the student speaker and a presenter. He presented research he conducted during an internship with NASA last summer. Dextre said Binghamton Research Days was a great opportunity to express his passion and encourage others to do the same. He first became involved in research with Associate Professor Mohammad Younis in mechanical engineering and his work with micro-electrical mechanical systems in the summer of 2010.
"I had no idea what it was at first, and I wasn't even sure if I would like it," Dextre said.
Dextre presented his work at conferences, enabling him to develop his presentation, professional and networking skills. "I gained more knowledge and skills than I could ever have obtained from a textbook," he said. "My experience was far more rewarding than I could have ever imagined and much more useful than any homework assignment."
All of the day's speakers and presenters had one thing in common: a passion for research and learning about what is on the cutting-edge.
"Each one of them in a different way embodies the idea that being a researcher, being interested in the business of knowledge creation and being on the cutting edge of your discipline makes you a fundamentally different and more interesting teacher," Mileur said.
This was the idea behind Binghamton Research Days: making connections between research and what happens in the classroom. Faculty were encouraged to introduce their own scholarship in classes during those days. The schedule also included seminars, workshops and laboratory tours.
Mileur said the reason people learn at universities is to interact with people who create knowledge, people on the cutting edge. For him, resources such as books and websites don't represent the cutting edge; people do, and these people are passionate about their work.
"If I have one big idea to communicate to those of you here who may be thinking about a life of scholarship," Dublin said, "it is that you have to feel something very powerful inside you, motivating you toward the research course that you propose to embark on."