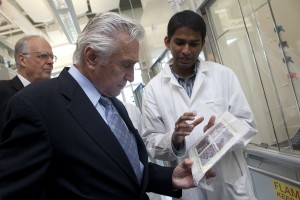 U.S. Sen. Charles Schumer held up a large, bulky solar chip in his left hand. In his right hand was a tiny solar chip representing the promise of Binghamton University's Center for Autonomous Solar Power (CASP) laboratory.
"When it comes to Binghamton's bright, solar-powered future, bigger is not always better," he said. "The path to a more prosperous Southern Tier economy is paved with flexible, miniature and transparent solar cells."
Schumer and U.S. Rep. Maurice Hinchey, who helped secure $8.5 million in federal funding for the CASP facility, were among the speakers at the opening of two laboratories at the New York State Center of Excellence in Small Scale Systems Integration and Packaging (S3IP). The May 3 ceremony at the Innovative Technologies Complex also featured comments from University President Harvey Stenger, Interim Vice President for Research Bahgat Sammakia and state Assemblywoman Donna Lupardo. Guests later toured the labs.
The ceremony celebrated the opening of the Center for Autonomous Solar Power's Solar Laboratory and the co-location of the Integrated Electronics Engineering Center's (IEEC) Reliability and Failure Analysis Laboratory. Both laboratories are housed in the Biotechnology Building at the ITC.
CASP is a national leader in the research and development of thin film solar cells. Its new laboratory will focus on using inexpensive, non-toxic and abundant materials to develop new solar cell and energy storage technologies. The IEEC conducts research in electronics packaging and provides the results to affiliated companies. The newly relocated Reliability and Failure Analysis Laboratory provides expertise in electronics packaging.
"Binghamton has a strong research tradition that is crucial to the growth of the University and our region," Stenger said. "These new laboratories provide us with world-class facilities and usher in an era of collaboration and partnerships that will expand the future of our region, and act as a catalyst to reinvent and enhance the technology focus of the Southern Tier."
Stenger and Sammakia took that technology focus to Albany on April 25 when they presented the University's NYSUNY2020 plan to Gov. Andrew Cuomo. The plan includes the construction of a $70 million, state-of-the-art Smart Energy Research and Development Facility.
"This plan builds on the kinds of successes that we are here to celebrate and are a huge part of Binghamton University's future," Stenger said. "These successes would not be possible without the support of our federal and state partners. … It's remarkable in such a short amount time that we are already recognized as a national leader in the (solar energy) area."
Schumer noted the economic potential of the new laboratories.
"When we look to the future, we look to Binghamton University," he said. "When we are looking for jobs in the Southern Tier, we often look to Binghamton University. Too often, New York institutions did research that did not create jobs. We are now focused on things that create jobs — and CASP is on top of the list."
Research at the CASP lab "will lead to a wealth of applications," Schumer said, referring to solar-powered sensor networks, systems that allow the charging of laptops and cell phones and cooling systems for soldiers in hot climates.
"Imagine if every window at One World Trade Center was a solar-powered cell," Schumer said. "That's what the research could create. … The possibilities are endless, but one thing is for sure: CASP will be a springboard for innovative solar energy. It has the same kind of potential that IBM had decades ago in Endicott."
An integral part of the S3IP, the labs will bring together government, academia and industry partners to collaborate in areas such as electronics, healthcare and energy — all of which have national and global impact.
Hinchey said the CASP marks a step forward for renewable energy.
"The research that will be done within these walls has the potential to reshape our energy future," he said. "It is so important that our government makes substantial investment in laboratories like this. It is an unfortunate reality, however, that many in Washington have sought to eliminate investments in renewable energy research as well as the earmark process that enabled this funding to be allocated. I oppose that shortsighted approach and instead place my faith in the talented minds here at Binghamton University."
Hinchey, who is retiring from Congress at the end of his term this year, said he is "honored" to have helped Binghamton University grow over the last two decades.
"This is a marvelous place that is getting stronger, bigger and more effective seemingly every day," Hinchey said.
Lupardo called the opening celebration "good news" and noted how the ITC and its facilities are providing K-12 students and their teachers with another outlet to learn about science.
"There is so much good news coming out of Binghamton University, we can hardly keep up with it," she said. "You see the construction going on. The community in general is starting to catch on that this is a place that is not only generating new ideas, but new jobs."
Schumer brought up the name of Binghamton legend and "Twilight Zone" creator Rod Serling, who challenged Americans to "imagine something beyond the mundane."
"The scientists, engineers, technicians, students, workers and administrators at Binghamton University and the Center for Autonomous Solar Power have accepted that challenge," he said. "Into that middle ground, between light and shadow — into 'the dimension of the imagination' that Serling always talked about ― they will pour the full brightness of their intellect, invention and innovation. The citizens of Binghamton and far beyond will be better for it."