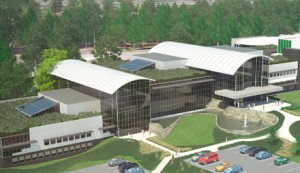 Binghamton University today launched construction of its New York State Center of Excellence in Small Scale Systems Integration and Packaging (S3IP) building in a ceremony attended by elected officials, local leaders and University representatives. The facility will connect with the Biotechnology and the Engineering and Science buildings, which are part of the University's Innovative Technologies Complex (ITC).
The new $30 million, 114,000-square-foot Center of Excellence building will provide space for expansion and consolidation of S3IP and its interdisciplinary, inter-institutional teams of scientists and engineers. The facility will help bridge critical scientific, technology, commercialization and education gaps, and support partnerships in energy-efficient electronic systems, systems integration and packaging, flexible electronics, autonomous solar power, advanced materials and sensors and health care/life sciences.
"This building will solidify Binghamton University's position as a world leader in small scale systems packaging," Interim President C. Peter Magrath said. "This facility will connect people and ideas, accelerate discovery in this growing field, and develop further our commitment to partnerships with industry. The research, education and outreach of those who will be housed in this building will make a significant contribution to this region and to New York State."
Funding for the new building was obtained through the efforts of State Sen. Thomas W. Libous, R-Binghamton, and Assemblywoman Donna Lupardo, D-Endwell. The new building will provide an estimated $15.9 million annual economic impact and support more than 180 jobs per year in the region during its construction.
New York's Southern Tier has long been a hub for microelectronics research. S3IP builds on this legacy through high-impact research that supports the translation of economically significant microelectronic innovations to U.S. industry. S3IP is a proven innovation leader, generating more than $700 million in economic impact through partnerships with national and international industries on collaborative, precompetitive research.
"Research is a key driver for innovation and technology development," Interim Vice President for Research Bahgat Sammakia said. "Our research at the Center of Excellence has always been conducted in strong partnership with industry, and we are fully committed to research that has a broad and transformational impact on the community. This building will create spaces and infrastructure that bring together our faculty, scientists and students with engineers and scientists from industry to work on key technical advancements."
The two-story glass, metal and stone building will feature versatile, open laboratory space, a symposium hall and offices that support the University's ongoing and expanding industry partnerships.
Featuring in-house design, planning and construction management, this building will meet LEED (Leadership in Energy and Environmental Design) standards, incorporating energy-efficient windows and skylights for maximum use of daylight, green roof applications and the latest technology for heat recovery and humidity control.
To see a video flyover of the architect's plans for the building, click here.