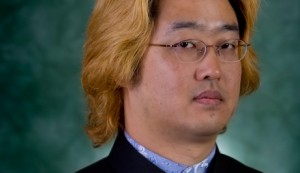 J. Koji Lum, associate professor of anthropology and biological sciences, has been appointed chair of Binghamton University's Human Subjects Research Review Committee.
Lum is a molecular anthropologist and population geneticist whose research focuses on the origins, interactions and resulting genetic characteristics of Pacific Island populations.
He succeeds Raymond Romanczyk, who guided the Human Subjects Research Review office through its successful application for accreditation by the Association for the Accreditation of Human Research Protection Programs. Romanczyk, a professor of psychology, remains at Binghamton as director of the Institute for Child Development.
The Human Subjects Research Review Committee evaluates research activities that involve human subjects and helps to ensure that risks to participants are minimized.