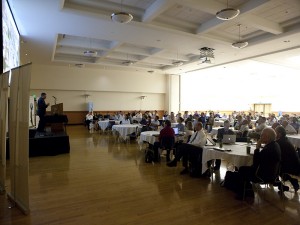 More than 175 speakers and guests gathered Aug. 17 and 18 at Binghamton University for the third-annual Flexible Electronics Symposium.
The event, organized by the Center for Advanced Microelectronics Manufacturing, brings together researchers from academia, national labs and industry for discussions of recent advances in the fields of flexible electronics, device and conductor printing and emerging electronic materials. Participants also discuss research and development needs in the field.
John Pellegrino, director of the Sensors and Electron Devices Directorate of the U.S. Army Research Laboratory, gave the symposium's keynote address. Speakers also included scientists from Penn State, 3M, Corning, Eastman Kodak, GE, HP, PARC and Xerox.
The symposium featured a student poster session as well as tours of CAMM's roll-to-roll manufacturing research center at Endicott Interconnect Technologies.
CAMM's latest addition, the CHA Industries Web Coater, was featured during tours of the facility. The $6 million machine, built for the FlexTech Alliance with funding from the Army Research Laboratory, was installed at the CAMM earlier this year.
CAMM Director Peter Borgesen said the web coater allows the center to engage in high-volume manufacturing of thin-film transistors on flexible surfaces. The tool is unique in the country at the moment, and may even be the only one of its kind in the world.
"We can do vacuum processing on a scale that's not normally done in manufacturing yet, and we can do it with an accuracy that's not generally possible yet," Borgesen said. "It enables you to do something that normally you could only do in a physics lab."
Like this article? Please share!