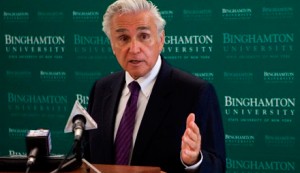 Binghamton University could receive $9 million in federal funds to support energy-efficiency research with defense applications, U.S. Rep. Maurice Hinchey announced Aug. 3.
The funding has been approved by the House Appropriations Subcommittee on Defense and will now go to the full Appropriations Committee and then the House of Representatives. The allocations are expected to support two projects:
$6 million to help establish the Center for Energy Efficient Electronic Systems, which will focus on reducing energy consumption in data centers and electronic systems.
$3 million to develop energy-efficient tent technology for the Marine Corps.
Hinchey described the projects as "critical to our security needs," and noted that dozens of good-paying technical jobs are expected to be created.
"Binghamton University is perhaps the most important economic anchor in this region that I represent," Hinchey told reporters who gathered for a press conference at the University's Innovative Technologies Complex. "It puts technology into action and does it in an important way."
Data centers – essentially massive banks of computers – are increasingly in demand to power online services for everything from medical records to shopping. Energy consumed by data centers is growing 12 percent annually, Hinchey said, and by 2020 data centers may produce more greenhouse gases than air travel.
Research conducted by the Center for Energy Efficient Electronic Systems has the potential to deliver more than $300 million in energy savings for New York companies and $3 billion in savings for companies around the nation. The U.S. Army Armament Research Development and Engineering Center will collaborate on the project.
"As the largest energy consumer in the world, the military is beginning to embrace a new culture to address the department's use of energy," Hinchey said.
The goal of the tent research is to achieve up to a 75 percent reduction in fuel needs as well as increased protection for military personnel. The Marines use 800,000 gallons of fuel daily in Afghanistan alone, necessitating hundreds of trips to transport fuel.
"Improving energy efficiency in the battlefield is critical to the safety of our troops serving on the front lines," Hinchey said. "According to the Army, reducing fuel consumption by only 1 percent in Iraq during 2007 would have prevented the need for 6,444 soldier trips. With half of U.S. military casualties in Iraq and Afghanistan directly related to attacks on convoys, reducing the need to transport fuel will help save lives."