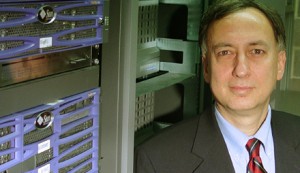 Binghamton University faculty member Bahgat Sammakia received a prestigious award June 3 in recognition of his pioneering research.
Sammakia was selected to receive the 2010 ITherm Achievement Award in honor of his contributions to electronics, thermal and thermomechanical research, as well as his service to the electronics thermal management community.
Sammakia, director of the Small Scale Systems Integration and Packaging Center (S³IP), a New York State Center of Excellence, also serves as the University's executive director for economic development. A professor of mechanical engineering, Sammakia spearheads an effort that promises to revolutionize the electronics industry. S³IP is leading the way to advances in flexible electronics as well as more environmentally friendly data centers and manufacturing processes. The center, which includes more than 45 affiliated faculty and staff, has generated more than $700 million in economic impact to New York State industry since 1996.
Sammakia, a Vestal resident and longtime IBM engineer, joined Binghamton's faculty in 1998. He holds 14 U.S. patents and has published more than 150 technical papers in refereed journals and conference proceedings.
The ITherm Achievement Award was presented June 3 during the 12th Intersociety Conference on Thermal and Thermomechanical Phenomena in Electronic Systems in Las Vegas. The award, first given in 1996, is presented biennially. Sammakia is the eighth recipient.