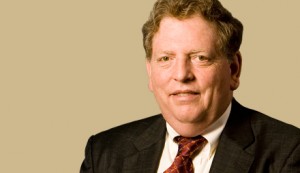 Gerald Sonnenfeld, vice president for research at Binghamton University, has accepted the position of vice president for research at Clemson University, starting in the fall. "I have been recruited for this position for quite some time by Clemson University," Sonnenfeld said. "It is a wonderful opportunity and this was the hardest decision I've ever had to make.
"Binghamton University is a superb research university and it has been an honor and a pleasure to be vice president for research at Binghamton," he added. "I have every confidence that the scholarly activity and research at Binghamton will continue to grow both in amount and quality in the future."
"While we recognize that his new appointment will present many new opportunities for Dr. Sonnenfeld, he will be sorely missed at Binghamton," President Lois B. DeFleur said. "During his tenure, our research expenditure has increased at a faster rate than any other SUNY school. He has helped develop our Center of Excellence and other important programs. I appreciate all of his contributions as a member of my senior staff and the University has benefited tremendously from his work."
Sonnenfeld was appointed vice president at Binghamton in 2004. His research focuses on the regulation of the immune system by the neuro-endocrine system and how stress affects reactions. Some of his work involves how space flight affects the immune system.
He has been recognized with the Founders Award by the American Society for Gravitational and Space Biology and this spring received the American Association of Immunologists' Distinguished Service Award for his work with the group's Minority Affairs Committee.
Sonnenfeld, a native New Yorker, earned his bachelor's degree from City College of New York and his doctorate from the University of Pittsburgh School of Medicine. He was a post-doctoral fellow in immunology and infectious diseases at the Stanford University School of Medicine. He holds two U.S. patents and one from Canada.