Two faculty researchers and a staff member took top honors in this year's Art of Science competition at Binghamton University.
Advances in imaging technology and tools mean that scientists have an increased ability to generate exciting data as well as to create compelling works of art. This contest, organized by Martha Terry from the Office of Research Advancement, offers an opportunity to share the beauty of science through photographs and images that describe some aspect of research captured visually.
The campus community was invited to submit images in three categories:
The World Around Us: images in which the subject is visible to the naked eye
Visualizing the Unseen: images captured with the use of optics that extend beyond what the eye can see, such as microscopes and telescopes
Imagining Science: images that depict objects too small to be visualized directly, models of scientific phenomena or processes or interpretations of scientific information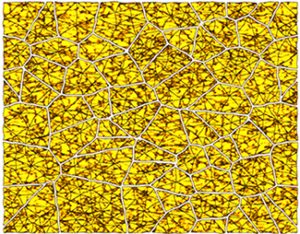 First place for Imagining Science went to Congrui Grace Jin, an assistant professor of mechanical engineering, for her entry titled "Meshed Grains."
She wrote: To investigate creep rupture of high-temperature components such as gas turbines and steam boilers, our team developed a mesh generator that can generate meshed grains of polycrystalline materials. The grains can be non-uniform in size and randomly distributed. Each grain is meshed using quadratic triangular grain elements; cohesive elements are added at grain boundaries. The figure is generated by MATLAB and rendered by POV-Ray. This project, titled "High-Temperature Creep Failure of Additively Manufactured Metals," is sponsored by University of Science and Technology Beijing.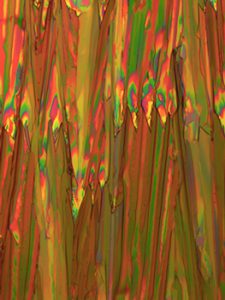 In Visualizing the Unseen, first place was awarded to Jeffrey Mativetsky, an associate professor of physics, for an entry titled "Shards."
He wrote: An organic semiconductor "ink" dries to form crystals of varying thickness that create light interference patterns, much the way an oil slick forms rainbow-like bands. These unconventional semiconducting materials are being explored for next-generation solar cells and electronics that are printable, low-cost, and mechanically flexible.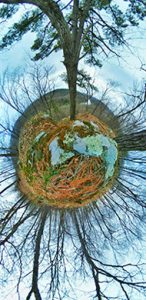 The Best in Show prize went to the first-place entry in The World Around Us. Michael Jacobson, research development specialist in the Office of Strategic Research Initiatives, took the prize for his entry titled "Fort Anne."
He wrote: This is a stretched 360-degree view of the top of Battle Hill, the location of British troops during the Battle of Fort Anne. The Public Archaeology Facility's research showed the significance this little-known battle had on the American Revolution, which led to its preservation.
About three dozen images were evaluated based on scientific significance, originality and artistic and visual impact.
This year's judges were Hiroki Sayama, director of the Center for Collective Dynamics of Complex Systems and professor in the Department of Systems Science and Industrial Engineering; John Tagg, SUNY distinguished professor of art history; Anju Sharma, senior scientist in the Analytical and Diagnostics Laboratory; undergraduate Rebecca Kiss, photo editor of Pipe Dream; and alumnus and professional photographer Wasim Ahmad.