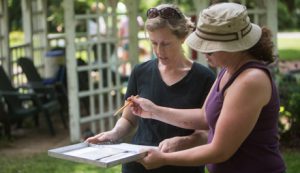 A longtime member of the Public Archaeology Facility's staff will oversee the Binghamton University research center as director effective immediately. Laurie Miroff, a Binghamton alumna and project director with the center since 1998, said she's excited to get to work.
"I expect to continue our excellence in research and our robust schedule of projects around New York State," said Miroff, who specializes in Native American pottery analysis. "We hope to expand our contracts in the state and to do more battlefield research as well."
Bahgat Sammakia, vice president for research, noted that the PAF is a significant part of Binghamton's portfolio of sponsored research. In fact, PAF research expenditures during the past decade topped $23.6 million.
"We're so pleased to have someone with a deep understanding of the center's work as well as our campus' traditions and policies step into this role," he said. "I look forward to a collaborative relationship with Laurie."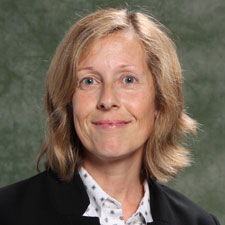 Miroff, who holds a bachelor's degree in anthropology from the University of Connecticut, earned two master's degrees (one in anthropology and another in teaching) from Binghamton before completing her doctorate at Binghamton in 2002. She will oversee the PAF's 25-member staff.
Elizabeth Chilton, dean of the Harpur College of Arts and Sciences and an archaeologist herself, led a national search for a director of the center.
"The Public Archaeology Facility is a shining example of the value that Binghamton University brings to the State of New York and the people who live here," Chilton said. "They conduct important historical and archaeology surveys and document archaeological sites in advance of construction. They also serve an important educational and community outreach mission, and I am looking forward to working with Dr. Miroff to find ways to attract and train students at Binghamton for these types of careers."
Miroff co-developed the Community Archaeology Program, which began in 1996 and is about to start its 24th season. Hundreds of children, teens and adults have participated in the program, which teaches the public about archaeology through hands-on summer fieldwork.
Miroff succeeds Nina Versaggi, who served as director of the center for more than 30 years.
"I've worked with Nina since the beginning of my career," Miroff said. "To be stepping into that role, it's incredibly meaningful to me. Everything she has done has made a significant contribution to New York State archaeology."