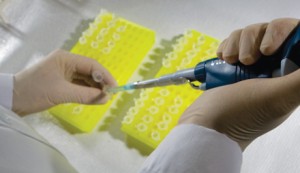 Binghamton University will share in $700,000 for research projects in collaboration with other SUNY institutions, Gov. Andrew M. Cuomo announced this week. Seven projects involving 10 SUNY campuses will each receive up to $100,000 from the SUNY Research Collaboration Fund, which supports research collaborations among campuses as part of the SUNY system's strategic plan, The Power of SUNY.
"Not only does the SUNY system provide quality, affordable higher education opportunities to New Yorkers, but it is also an engine of research and development to increase innovation and grow our economy in New York State," Cuomo said. "The projects receiving awards today showcase a wide range of areas being explored in campuses across the SUNY system, and they all have potential to leave a positive and lasting impact on our health, environment and society."
"The broad range of SUNY's scientific research is reflected in these awards and we will continue to incentivize cross-campus collaboration to promote the strength of working together as a system," SUNY Chancellor Nancy L. Zimpher said.
"We're pleased that three Binghamton University projects have received funding through this competitive program," Binghamton Vice President for Research Bahgat Sammakia said. "The funded projects highlight the strengths our researchers have in the health sciences, focusing on the treatment of stress, stroke prevention and medical imaging to aid in diagnostics and healthcare. These scholars and their collaborative research with other SUNY institutions will have a positive impact on the quality, availability and affordability of American healthcare."
The Binghamton projects are:
Stress treatment: This project conducted by Richard E. Mattson, Matthew D. Johnson and Nicole Cameron from Binghamton University, in collaboration with researchers from Upstate Medical University and Stony Brook University, aims to develop an integrative genetic, developmental and psychosocial framework that links social support and improved health outcomes in order to develop treatments that target the negative consequences of stress.
Medical imaging: Binghamton's Chuan-Jian Zhong and a collaborator from SUNY Potsdam aim to develop a fundamental understanding of functional nanoprobes for detection of DNAs to aid in diagnostics and healthcare.
Stroke prevention: Chun-An Chou from Binghamton University and a colleague at Upstate Medical University aim to develop a tool to help doctors make more informed medical decisions by predicting possible aneurism ruptures, which often cause strokes.
Among other funded initiatives are projects that seek to improve cancer detection and treatment and analyze the effects of climate change.
"The scope, scale and diversity of SUNY's research portfolio are on full display with the announcement of these awards," said Tim Killeen, president of the Research Foundation for SUNY and SUNY's vice chancellor for research. "Collaborative research invites industry interest and entrepreneurial opportunity that lead to innovation, new business, jobs and public benefit."
The SUNY Research Collaboration Fund supports collaboration among researchers and students across SUNY's campuses in order to enhance the collective impact of their work and ability to advance science, innovation and economic prosperity in New York State.
This second annual round of Research Collaboration Fund awards attracted 77 proposals. Funded projects were selected through a peer-review process. Factors considered in the evaluation included: originality and significance of the research; student involvement; industry and other outreach efforts; and the ability to attract future federal, state, philanthropic or private funding.