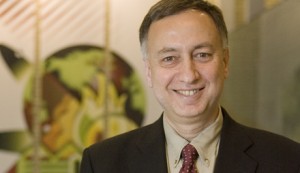 Bahgat Sammakia, director of the Small Scale Systems Integration and Packaging Center (S3IP), has been appointed interim vice president for research at Binghamton University, effective Sept. 1.
Sammakia, who also served as interim vice president for research in 2003-04, will continue to devote a portion of his time to directing S3IP while the University conducts a national search to replace Gerald Sonnenfeld, who is leaving to become vice president for research at Clemson University.
"Bahgat Sammakia's experience and knowledge as a researcher, mentor and leader encompass all of the qualities we need to keep strengthening our vital research programs," said C. Peter Magrath, interim president. "He is one of our many creative stars and it's a big win for BU that he is again taking on this leadership role."
Sammakia earned his bachelor's degree in mechanical engineering from the University of Alexandria in Egypt, and his master's and doctoral degrees in mechanical engineering from the University at Buffalo. He was a post-doctoral fellow at the University of Pennsylvania.
After joining IBM in 1984 as an engineer in the thermal management area, Sammakia held managerial positions in the thermal management department, thermal and mechanical analysis groups, surface science group, chemical lab and the site technical assurance group. His last position before leaving IBM in 1998 was senior technical staff member and manager of research and development for organic packaging in the IBM Microelectronics division.
Sammakia became director of Binghamton's Integrated Electronics Engineering Center in 1998, and he is the founding director of S3IP, a New York State Center of Excellence, which was established in 2003. He holds 14 U.S. patents and 12 IBM technical disclosures and has published more than 150 technical papers in refereed journals and conference proceedings. Sammakia, who has contributed to three books on heat transfer and thermal management of electronic systems, is also a fellow of the American Society of Mechanical Engineers.
Last month, Sammakia was selected to receive the 2010 ITherm Achievement Award for his contributions to electronics, thermal and thermomechanical research and his service to the electronics thermal management community.