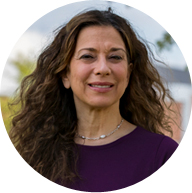 Elisa Camiscioli's research requires her to dig into early 20th-century ship manifests and police reports, translate handwritten letters and use genealogical websites to map lineage connections. She studies immigration to and from France, trafficking between Europe and Latin America, and race and sexual politics in modern France and its empire.
The National Endowment for the Humanities awarded the associate professor of history a $60,000 fellowship in January to complete her research and write her second book. She expects "Trafficking, Travel, and Illicit Migration in Early Twentieth-Century French and the Americas" to be published in 2022.
"Elisa's work really touches on central questions of our own day," says Eileen Boris, Hull Endowed Chair and distinguished professor of the department of feminist studies at UC Santa Barbara. "She reconstructs the social and political history of people who traversed the Atlantic for a living while studying the ideas of border control, belonging and citizenship, civilian surveillance, racial profiling and policing of sexuality."
While French women were migrating to cities like Vera Cruz, Buenos Aires and Havana to work in commercial sex trade, there were open immigration policies from Argentina up to Nova Scotia until restrictions became the norm by 1930.
"Historians usually talk about how the growth of nationalism, race and ethnicity affected these policies, but women's mobility and the problem or perceived problems associated with migratory prostitution play a key role in this development," Camiscioli says. "I argue that these early debates about border policing, passport control, repatriating, restrictive immigration requirements — all in association with women working in prostitution and societal fears about women's mobility — helped create current border control regimes and shape understandings of illicit migration today."
Camiscioli's work also looks at the distinction between free versus forced migration. Personal letters collected as evidence for police records against prostitutes or their pimps indicate these women generally made the decision to travel abroad. "They wrote about feeling seasick or asked for news about their goddaughter. They had tender ties to their families," she says. "That doesn't mean they weren't dreadfully poor, didn't have violence in their lives, or that they didn't experience degrees of abuse and deception, but there are shades of gray between coercion and choice and I think many of these women fell somewhere in between."
Occasionally, Camiscioli can piece together a rough timeline of one woman's travels. For example, a family reported their 15-year-old daughter missing but once the Buenos Aires police found her, she said she was sick and didn't want to tell her family why she was miserable. Consulate records and ship manifests show this individual traveled to several cities before ending up in San Francisco. She reported to the U.S. Census that she was a dressmaker, an occupation often used by women who worked in commercial sex. She traveled to France three times to visit an aunt, and by age 40, she was living in Paris and managing a brothel.
"She was entrepreneurial. And by migrating, she experienced a boost within her working-class status," Camiscioli says. "I'm astounded by how profoundly mobile these people were and the ingenious ways they got around the system. There's so much tenacity, and while it can be easy to overly romanticize some of these stories, their sense of freedom and adventure does shine through."
Camiscioli's first book, "Reproducing the French Race: Immigration, Intimacy, and Embodiment in the Early Twentieth Century," was published by Duke University Press in 2009.
She graduated with a bachelor's degree in history and French literature from the University of Pennsylvania and received her doctorate in history from the University of Chicago. She is the co-editor of the international Journal of Women's History (along with distinguished professor of history Jean H. Quataert), and serves on research, teaching and granting committees in France, Belgium and the UK.