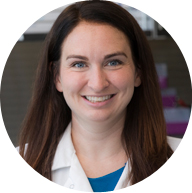 A Binghamton biologist was recently recognized as an outstanding early-career researcher by the American Society for Microbiology.
Laura Cook's minireview was published in the July edition of the society's "Infection and Immunity" journal. This was the first time the editorial board used an issue to highlight some of the "brightest early-career scientists who embody the future of research on host-microbe interaction."
The piece, titled "Two-Component Signal Transduction Systems in the Human Pathogen Streptococcus agalactiae," was co-authored by Lamar S. Thomas, a doctoral candidate in Cook's lab.
"We only had two months to put together the review, citing 100 different sources, so it was a lot of reading and work," says Cook, an assistant professor of biological sciences who joined the Binghamton faculty in fall 2018. "I wanted Lamar to help me because it's good for her career. I was impressed with how much work she put into it, considering the short timelines."
Cook's research focuses on Streptococcus pyogenes, a bacteria that causes strep throat and skin and soft tissue diseases like impetigo and cellulitis. She also studies Streptococcus agalactiae, which commonly live in the gastrointestinal and genital tracts but can cause invasive infection in newborns, maternal women and older individuals with underlying chronic conditions.
"It's not ideal that the only and best course of treatment is antibiotics," Cook says. "We're working toward identifying new treatment strategies. We hope our research moves in the direction of identifying new vaccine candidates."
Cook did her undergraduate and graduate work at the University of Minnesota. Her post-doctoral studies took her to the University of Illinois at Chicago, where she focused on quorum sensing (the ability to detect and respond to cell population density by gene regulation) in streptococci and the role of cell-to-cell signaling as they colonize the host.
While working in the lab of Michael Federle, she began using animal models of bacterial growth, and her use of a mouse model of vaginal colonization developed into her current research.
Cook, Thomas and several undergraduate students are studying how streptococci grow and interact on mucosal surfaces in the vaginal tract and nasopharynx of mouse models.
Federle said he appreciated Cook's coordination of his group of bacteriologists with a group with physicians at another university, both of which were researching reoccurring strep throat diagnoses among adolescent patients. The two groups were looking at relevant questions that could be asked in a clinical setting and were researching therapeutic options outside of antibiotics.
"She was really good at finding collaborators and teams of scientists that can work together," Federle says. "That's one of the biggest impacts that she's going to have at Binghamton University."
Another strength is Cook's approachability and innate ability to make people — especially students — comfortable. "She's a good person to collaborate with because she takes on big goals and ideas and she takes them on with ease," Federle says. "She asks the right questions — questions that are going to need collaboration through interdisciplinary work."