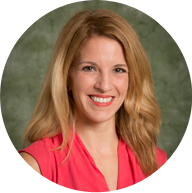 Melissa Hardesty knows all about slow and steady winning the race. An assistant professor of social work at Binghamton University, she has spent up to a few years on a single research project.
Her hobby is a little different. Hardesty also runs marathons — and she qualified for the recent 2020 Olympic trials.
Hardesty's latest paper, published in the Johns Hopkins University Press, began when she noticed articles criticizing women who participated in an online trend of political selfies. Women in the photos would hold up a sign or whiteboard with phrases such as "I don't need feminism because…" or "Why I don't need feminism:" and Hardesty wanted to understand the reason for the photos in the first place.
Hardesty found these photos responded to a Duke University project where students were asked to complete the phrase "I need feminism because…" on a whiteboard. The photo series was shared widely online, but the photos in the "anti-feminist" category ultimately received more attention.
Political selfies in the digital age raise some unique challenges. It's difficult to identify if the photo was staged, for instance, and sometimes it's unclear whether the subject in the photograph is the person who is originating the statement.
"I think I can say pretty confidently, in part because of the way people react to photos, that people see pictures as being a snapshot of something that's real," Hardesty says.
Hardesty's paper, titled Political Selfies and the Paradox of Giving Voice to Virtual Bodies, also addresses the idea that social media enables images to travel much further than messages can spread in person. We as individuals can publicly display our relation to wider, less specific political movements. Newer technology, including filters and photo editing apps, can also change our perception as well as our relationship with our own bodies.
"It's interesting to consider how people can inhabit a digital mock-up of themselves," says Hardesty, who joined Binghamton's faculty in 2016. "What does it mean to be an embodied human when people are having so many more interactions not in their flesh and blood bodies?"
Yvonne Smith, now an assistant professor at Syracuse University, was a doctoral student with Hardesty. She saw her dedication to integrating her research into her daily life. "I admire Melissa's commitment to examining how feminisms play out in everyday practices — like political selfies or foster parenting," Smith says. "I think her research puts feminist thought to work making sense of phenomena that are central to our profession."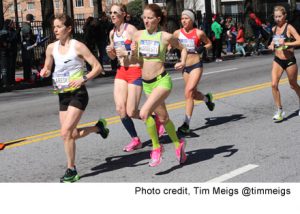 While Hardesty's academic projects can take several years, marathons move faster: 2 hours, 44 minutes and 10 seconds to be exact. Completing the Toronto Waterfront Marathon in that time made her eligible to try out for the 2020 Olympics.
"I have no shot of making the Olympic team," Hardesty said with a laugh before the trials, which were held Feb. 29 in Atlanta.
The trials were granted gold status by USA Track and Field; the top three runners from the men's and women's categories will go on to Tokyo in 2020.
Hardesty finished 191st out of the 390 women who completed the race, and 361st overall, out 565 runners. She finished in the top 60th percentile, with a time of 2 hours, 48 minutes, and 31 seconds — less than five minutes more than her qualifying time.
Hardesty began running in 2006 for recreational purposes, but she grew more serious about it as a doctoral student at the University of Chicago. She has been competing since 2008.
She describes her best races as the ones where she begins the race feeling less than ready but reaches a peak around the 20th mile — just when others may begin to fall in their speed. Her efficient use of energy to maintain a strong pace throughout a race is an essential trait among successful marathon runners.
When the weather gets below 20 degrees, or road conditions are too icy, Hardesty trains indoors on a treadmill. She sticks to a cycle of training, resting between marathons, and then slowly working her way back to a competitive level in the weeks before a race.
If you ask Alana Gunn, an assistant professor at University of Illinois at Chicago, Hardesty has always had the dedication of an Olympian.
"She qualified for the Olympic trials one week and got an awesome paper accepted the next!" Gunn says. "That still stands out to me — her ability to support others while also exploring her own diverse talents and ambitions."