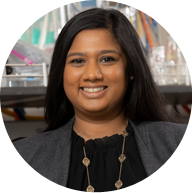 The psychology department's newest hire has been named SUNY's first Chancellor's Early-Career Scholar. It's part of a state-funded program to help recruit and retain world-class faculty.
"Binghamton University has so much opportunity, energy and vitality," says assistant professor Florence Varodayan, who joined the faculty in January. "As I settle in, I'm looking forward to learning about the cutting-edge research being performed in labs across campus and seeing how we can work together to build interesting multidisciplinary projects that span different departments. Science is a team sport."
Varodayan's research focuses on understanding how neural communication between addiction-related brain regions, such as the prefrontal cortex and amygdala, is shaped by alcohol dependence and stress. Her goal is to find innovative therapeutic strategies to provide better treatment for patients suffering from alcohol- and anxiety/stress-related psychiatric diseases.
She graduated with a bachelor's degree in biochemistry and biology and a master's degree in chemistry from the Un iversity of Pennsylvania. Her second master's degree and doctorate in neurobiology and behavior was completed at Columbia University.
From there, Varodayan completed a postdoctoral fellowship at Scripps Research, formerly known as The Scripps Research Institute. There, she worked in the cellular neurobiology lab of Dr. Marisa Roberto, a professor in the molecular medicine and neuroscience departments.
"Florence was a dynamic force in my lab," Roberto says. "She demonstrated great skill at proposing elegant studies, learning new techniques and developing innovative approaches to scientific investigation. She is poised to make seminal contributions to addiction research."
At Binghamton, Varodayan plans to continue her research on cognitive dysfunction and alcohol use disorder in affiliation with the Developmental Exposure Alcohol Research Center (DEARC).
"One of the main techniques that we use is electrophysiology, which is this cool opportunity to monitor brain activity," Varodayan says. "You can actually see individual brain cells communicate in real time."
The lab is recruiting postdoctoral fellows, graduate and undergraduate students and research technicians. Varodayan has a long history of mentoring and working with students, and she is looking forward to encouraging curiosity and potential career paths in her new role.
"Sometimes it's their first experience with research. They are used to there being a correct or right answer," Varodayan says. "They can bring a fresh perspective to your research because they're always asking, 'Why are we doing it this way?' or 'Why does it work this way but not that way?' Their questions can very actively contribute to research in very important ways."
Varodayan arrives with grants to support her research. In 2017, she received a prestigious, multi-year Pathway to Independence grant from the National Institutes of Health, which supports highly qualified postdoctoral researchers as they transition to independent scientists. The first phase of this $1 million grant involved her mentored research at Scripps Research; the second phase that supports her independent research at Binghamton will start in the spring.
The Chancellor's Early-Career Scholar award provides funding of up to $500,000 for items such as postdoctoral research fellowships, graduate student stipends, travel, equipment and software. Scholars who can attract more than $2 million of externally sponsored research funding within four years of their appointment are eligible to receive $100,000 in additional funding for the purpose of growing research.
In addition to the grants, Varodayan also learned in February she will receive faculty salary support through the PRODiG (Promoting Recruitment Opportunity, Diversity, Inclusion and Growth) program, which SUNY launched in 2019 to increase the representation of historically underrepresented faculty and women in STEM disciplines.