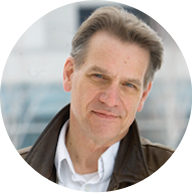 Music may be the universal language, but drama seems to run a close second for Thomas F. Kremer of Binghamton University's Theatre Department. For a decade, Kremer has been integral to an exchange program with the Duoc Universidad Catolica in Chile.
In 2001, Rodrigo Nunez, director of Duoc's professional acting program, came to Binghamton to pursue a master's degree. The relationship quickly transcended that of student/teacher to that of colleagues eager to collaborate.
"He found my approach to actor training intriguing and exciting and wanted to find a way to introduce it to his faculty and students," Kremer says. "My first trip to Santiago was to give a two-week workshop to his faculty. His university came up with the funds to send a group of English-speaking Chilean acting students here."
Together they created a scene festival with one-on-one pairings of Duoc and Binghamton students. "It was a great success," Kremer says, adding that seven more such festivals have been arranged since 2001.
There also have been full-scale joint productions of West Side Story, directed at Binghamton by both Nunez and Kremer, and The Threepenny Opera, directed first in Santiago and then in Binghamton by Binghamton's Anne Brady and Duoc's Sebastian Dahm. A third joint production is planned for the 2012-2013 season.
Next up for Kremer: Directing Glengarry Glen Ross this summer in Duoc's new professional theater for its alumni in downtown Santiago.
Besides having a translator available, Kremer will have collated two copies of the play, one in Spanish and one in English, so that he can, shall we say, always be on the same page as his actors. He'll also be relying on facial expressions and body language.
"You can watch actors," Kremer says, "and it doesn't matter what language they're speaking. You can tell if they are telling the truth."