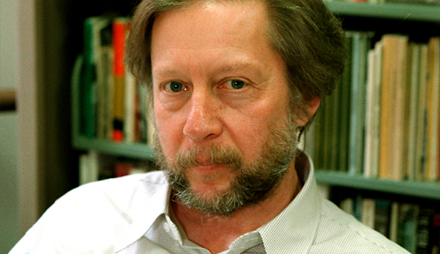 Binghamton University faculty member John Vernon has given new life to an Old West icon.
Vernon's historical novel Lucky Billy, released in November by Houghton Mifflin, has been featured as the lead review in the Nov. 30 New York Times Book Review and was an "Editor's Choice" a week later. It was recently named by the Seattle Times as one of top 10 fiction books of 2008.
"I want the readers to have a ground-floor experience of history, like they are there with the characters," Vernon said. "I want the readers to feel like they've been in that landscape. And I want the readers to be moved by Billy the Kid, but disturbed at the same time."
In the book, Vernon humanizes a figure often regarded as a ruthless renegade by placing him against the backdrop of the Lincoln County War of the late 1870s in New Mexico. Readers are able to have mixed emotions for the outlaw: they see a tragic figure caught up in a conflict that spirals out of control; find sympathy for a shattered family life; and have disgust for Billy's revenge killings.
Billy the Kid's "luck" is also subject to interpretation. Characters in the book consider Billy lucky to be able to take matters into his own hands. Readers see Billy get out of gun battles, jail breaks and house fires unscathed — and not necessarily because of his legendary outlaw skills.
"In the most superficial sense, he is lucky because he escapes from death," Vernon said. "And many times it did happen by luck."
Billy's luck ends in 1881 at the hands of Sheriff Pat Garrett. Vernon tells the story of Billy's death in Garrett's voice. It's one of several times in the book that Vernon shifts the point of view. He also uses a "scrambled chronology," as the book jumps back and forth from Billy's escape from jail in 1881 to the origins of his involvement in the Lincoln County War. Vernon said he used these methods to "break up a known story so some of the suspense comes from the reader putting it together."
Vernon said he first had the idea for the novel after reading an essay in The New Yorker by Fintan O'Toole in 1998 about separating Billy the Kid's legend from the facts.
In the fall of 2004, Vernon spent a week researching some of the Old West places in New Mexico, such as Lincoln. A Newman Travel Grant from the English Department helped Vernon get a feel for the area.
"I love stories embedded in the Western landscape," he said. "New Mexico hasn't changed much since the 1870s and 1880s. Lincoln is still very much the same. Many places in the West have become 'condo-ized' to death. But that place is so magical. It's still cattle country with ranchers and small towns."