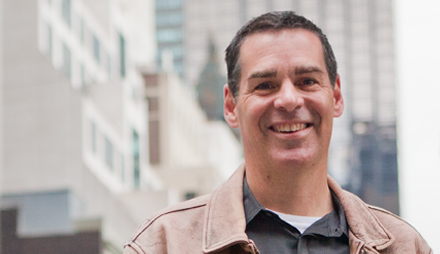 David Campbell was in his office at the Community Service Society in Manhattan on the morning of Sept. 11, 2001, when a co-worker delivered the news: The World Trade Center was burning.
"I looked out my window and could see all of the smoke," he says, recalling the view from the eighth floor of his building on 22nd Street and Park Avenue. "But we weren't sure what was going on. I remember e-mailing a friend: 'There's some crazy accident at the World Trade Center.' But then we realized that something was seriously wrong."
Community Service Society, one of the oldest nonprofit organizations in New York City, closed for the day. Campbell, then the group's vice president for programs, made the slow trek home and watched the horror unfolding just miles away.
Two days later, Campbell returned to work and received an edict from David Jones, head of the Community Service Society: No New York organization will be relevant if it is not engaged in some way in meeting the community's needs after 9/11.
"That idea always stayed with me," Campbell says.  "At first, it was strange: We don't do that kind of work. His point was that nonprofits have to respond when there is a crisis in the community. He was right."
The Community Service Society helped new nonprofit organizations distribute millions of dollars during the years that followed. And this post-9/11 work continued to resonate with Campbell even after he became an assistant professor of public administration at Binghamton University in 2005. He is still lending a hand to future and current nonprofit organizations. Campbell has studied and written papers on the formation of disaster-response agencies, using one such organization — Windows of Hope Relief Fund — as a case study.
"I had the unique experience of being in New York on 9/11," he says. "That experience changed my professional life in unexpected and dramatic ways."
The collaboration
Shortly after deciding to help new nonprofit groups, Campbell and Community Service Society learned of hospitality-industry professionals who had already raised money for families of Windows on the World employees.
Windows on the World was a restaurant complex on the top floors of the World Trade Center's North Tower. More than 160 employees and patrons were killed when the first plane hit the tower or during the ensuing collapse of the building.
Campbell and Jones met with Windows on the World owner David Emil and chef Waldy Malouf and learned how they and their co-founder, restaurant owner and chef Tom Valenti, hoped to use the Windows of Hope Family Relief Fund to provide financial aid, health insurance and educational help to the families of hospitality-industry workers killed in the World Trade Center attack. The founders of the fund were especially concerned that existing assistance systems would overlook or overwhelm the late workers' relatives, many of whom were low-income immigrants.
Windows of Hope had already held an Oct. 11, 2001, fundraiser called "Dine Out" in which restaurant owners around the world donated 10 percent of that day's income. That event, coupled with other donations, netted Windows of Hope more than $6 million. Emil and Malouf admitted needing help using those funds.
"They said, 'We're chefs. We have this money and these ideas about how to give it away. But we have no knowledge of social services. We need a partner. Will you work with us?'" Campbell says.  "We had to figure out a way to distribute millions of dollars to families fairly."
Campbell spent four years working with Windows of Hope, providing guidance to an organization that has now raised more than $22 million.
"It was very satisfying work," Campbell says.  "I liked the people I worked with. They were really committed."
The research
In 2005, Campbell, who had previously taught as an adjunct at Columbia University, left the nonprofit world behind so he could teach full time, and he found what he was looking for upstate.
"Binghamton valued my experience as a practitioner and the importance of working in the community," Campbell says.  "If I had the opportunity to pursue some ideas that interested me, maybe they could shape the world of practice in an important way."
That opportunity arose when Campbell reflected on his 9/11 work and the formation of so many nonprofit organizations. He learned that more than 250 new nonprofit groups developed after the attacks and generated nearly $700 million in the first two years of operation.
"I didn't understand it," he says. "Why are all of these people giving to Windows of Hope? Why do people need to start new organizations? Here was my organization, which had been providing assistance to New Yorkers in need since 1843. Why didn't David or Waldy come first to Community Service Society or to an existing organization that had a track record? That piqued my interest for the research agenda."
Campbell's examination, "Stand by Me: Organization Founding in the Aftermath of Disaster," was published by The American Review of Public Administration.
In "Stand by Me," Campbell studies the motivations of the people who created nonprofit organizations and the roles they played after 9/11.  He read tax-exemption applications the groups submitted to the IRS and identified the "defining characteristics" of each. For example, some groups may be geographically based, while others might be affiliated with a fire company or, like Windows of Hope, a 9/11 employer.
"All of the categories represent where people's passions lie in making a difference in the community," he says.
But some organizations lacked direction. Campbell pointed to an application from two people in the Midwest who planned to start a nonprofit that would provide foster care for orphans.
"They had no connection to New York City," he says. "They had no funding source. I think people have a lot of positive energy and they are not sure where to direct it."
Campbell found that most of the new post-9/11 organizations ceased operation within two years. Once the money was raised, the group disbanded. Those that continued likely had strong ties to the families of victims.
Campbell's second research project, "Organic and Sustainable: The Emergence, Formalization and Performance of a September 11th Disaster Relief Organization," examined one such group: Windows of Hope. The case study was published in Nonprofit Management and Leadership last year.
The study was a logical extension of the research; it also gave Campbell an opportunity to reflect on the factors that contributed to the group's success.
"There was a shared sense of identity among this group of hospitality-industry workers," he says. "We have to take care of our own: That's what brought them together. But it wouldn't have mattered if they hadn't been able to bring in resources. If you look at the hospitality industry, it has resources and knows how to leverage them."
Windows of Hope leaders also understood the need for collaboration and knew when to ask for help, Campbell says. "Their willingness to acknowledge what they did not know and to use Community Service Society allowed them to be responsive quickly," he says.
The lessons
Campbell's unique research has drawn praise from nonprofit leaders.
"He builds on his practical experience in the sector and his considerable knowledge of theoretical and managerial issues," says Susan Chambré, a professor of sociology at Baruch College who has written about nonprofit groups formed in response to the AIDS epidemic. "His study of new organizations responding to 9/11 is the only study I know about that looked at the creation of a new set of nonprofits in response to that event."
Both "Stand by Me" and "Organic and Sustainable" offer lessons to post-disaster organization founders and advisors, Campbell says. The projects, in particular, can help a new organization get off — or even stay on — the ground by providing some key questions to address.
"What is the life cycle of an organization founded in response to a disaster?" Campbell says. "Are you looking to go out of business after a year, which is fine but unusual? What is it you are trying to accomplish?"
Perhaps most important, Campbell would like to see closer coordination between new groups and the nonprofit infrastructure. The IRS can help make that happen when nonprofit applications are approved, Campbell says, and produce more success stories.
"These organizations need a connection to the existing service-delivery infrastructure,"  he says.  "I want to make sure these people talk to each other."
A Katrina comparison
David Campbell will next turn his research attention to a second U.S. disaster: Hurricane Katrina.
More than 400 new nonprofit organizations received approval for charitable activities in response to the 2005 storm, which devastated New Orleans and other parts of the Gulf coast. Campbell will analyze the groups and see how their life cycles compare to the 9/11 organizations.
"One of the things I heard about my research is: 'Well, New York is New York. You can't generalize from a case study of New York. Can you compare Katrina?'
"Katrina was a different kind of extreme event from 9/11," Campbell says. "It did a lot more damage to property and created a different set of challenges than 9/11."