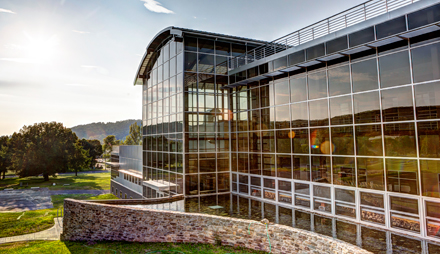 Binghamton University now has a Center of Excellence building worthy of its title.
The Small Scale Systems Integration and Packaging center (S3IP) and its interdisciplinary teams of engineers and scientists recently moved into a new $30 million glass, metal and stone building. The facility joins the Engineering and Science Building and Biotechnology Building at the Innovative Technologies Complex on Murray Hill Road in Vestal. A fourth building, the Smart Energy Research and Development Facility, is under construction and expected to open in 2017.
President Harvey G. Stenger joined this week with Sen. Thomas W. Libous, Assemblywoman Donna A. Lupardo, University faculty and staff, industry partners, community leaders and members of the public to celebrate the opening of the 114,000-square-foot Center of Excellence building.
S3IP, which was designated a Center of Excellence in 2006, connects industry and academia. Key research thrusts include electronics packaging, energy-smart electronic systems, flexible electronics and energy harvesting and storage.
"We have provided infrastructure that will catalyze the advancements already being made by our researchers in the areas of microelectronics, data center energy optimization, battery storage, autonomous solar power, as well as advanced materials and sensors," Stenger said. "Collaboration is what brought us to this point in our research efforts. Collaboration and the right environment, this building, will lead to path-breaking technologies in the future."
Stenger said the project, which generated nearly $16 million in economic impact and supported more than 180 jobs, would not have been possible without the support of the senator and assemblywoman.
"Binghamton University is partnering with various industries, academic institutions and government to achieve something very important with the Center of Excellence — an investment in our community and economy," Libous said. "We set out to create opportunities for careers locally, and we'll see those opportunities continue to grow in this new facility."
Lupardo noted that the opening of the Center of Excellence marks another milestone in the development of Binghamton as a world-class research institution. "This new state-of-the-art facility strengthens the collaborative work being done between government, industry and academia at Binghamton University," she said. "We are already seeing a positive impact on the local economy, as interdisciplinary teams develop products that will shape the future."
The Center of Excellence was designed by the University's in-house architect, William Hall. It was built to LEED standards, and features energy-efficient windows and skylights as well as a water retention system and the latest technology for heat recovery and humidity control.
"Today gives us an opportunity to reflect on the work we've done so far, including the more than $1 billion in economic impact on New York state and the nearly 2,000 jobs the center has helped to create or retain since 1996," said Bahgat Sammakia, vice president for research and S3IP director. "Tomorrow, we'll get back to doing what we do best: making electronics that are smaller, lighter, smarter, greener and faster than the ones you have now."
Time-lapse video captures construction
It took three years to build Binghamton's Center of Excellence, but you can see it go up in two minutes in this time-lapse video.