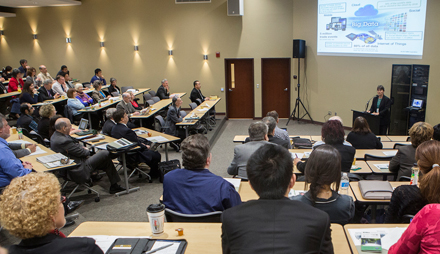 Binghamton University's fourth-annual Innovation Day program, scheduled for April 24, will focus on Innovation for the 21st and a Half Century.
In addition to a plenary talk and keynote speech, the day will include panels organized by Binghamton faculty members participating in the Transdisciplinary Areas of Excellence. Topics will include the local implications of hydraulic fracturing and revealing the three-dimensionality of film emulsion.
Kevin Maney, a Newsweek columnist who began his journalism career at the Press & Sun-Bulletin in Binghamton, will deliver the keynote: "Anticipating the Future … Just Enough." Maney notes that big trends such as artificial intelligence and ubiquitous data will shape life. Sometimes, however, it's the little things that help us understand what's coming. His talk will invite participants to think about what it might be like to try on a dress, apply for college, pay for a coffee and do a few other things in the not-so-far-future.
Plenary speaker Mathias Vuille, associate professor of atmospheric and environmental sciences at the University of Albany, will speak about how climate warming will influence everything from healthcare to the design of our future cities.
The day will conclude with two panels on education, one featuring current undergraduates musing on what college may look like in 2065 and another featuring Binghamton University President Harvey Stenger; James Pitarresi, assistant provost and executive director of the Center for Learning and Teaching; and Jason Andrews, superintendent of the Windsor Central School District.
"At Binghamton, we're proud of our corporate partnerships," said Per Stromhaug, assistant vice president for innovation and economic development. "Events like Innovation Day give us an opportunity to make connections among our faculty researchers, students, alumni, colleagues in industry as well as engaged community members. This year's theme is especially fun and challenging. Imagining life at the midpoint of this century is a good way to spark new ideas about innovation across many disciplines."
The program, which includes lunch and a reception and poster session, will be held at the Innovative Technologies Complex on Murray Hill Road in Vestal. It's free, but registration is required. For details and to sign up, visit http://research.binghamton.edu/Innovation/InnovationDay2015.php.