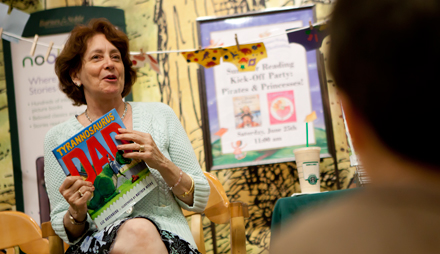 More than a decade after honoring her mother in the children's picture book Monster Mama, Liz Rosenberg has returned with another out-of-this-world family story: Tyrannosaurus Dad.
The 40-foot-high, 15-foot-long, necktie-wearing, workaholic title character was inspired by her father-in-law, George Bosnick.
"My father-in-law was an incredibly tough guy," said Rosenberg, a professor of English at Binghamton University. "He was a longshoreman. He was in special ops in World War II. He was 6'4, built like a truck, worked two or three jobs and would wear this Russian hat that added a foot to his height. The first time I met him he was an intimidating guy. In his later years, he got much gentler, as I think ferocious people often do."
Rosenberg said the dinosaur dad also has characteristics of her own larger-than-life husband, David Bosnick, such as gentleness and protectiveness. The book, released in May by A Neal Porter Book/Roaring Brook Press, is dedicated to both men.
In the book, Tyrannosaurus Dad's young human son Tobias is trying to get his hard-working father to pay attention to him and take part in Field Days at his school. T-Dad surprises Tobias by showing up for Field Days, umpiring a baseball game and even providing shelter during a rainstorm.
Featuring strong visual details from illustrator Matthew Myers, Rosenberg's story resonates with both children and adults.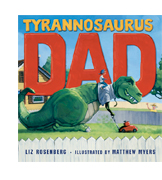 "I still read children's books for pleasure myself," Rosenberg said. "A great children's book grows with the child. And I know that as a parent, if you have to read the same children's book over and over to a child, you owe it to the parent to give them something that's not going to make them crazy."
She added: "Picture books are like poems because they are about the essentials: friendship, independence, family, loss, first love, things like that."
Tyrannosaurus Dad is also resonating with booksellers and buyers. It is a Children's Book of the Month Club bestseller, was featured as a top pick for Father's Day by Barnes & Noble and landed in Amazon.com's Top 10 for children's books about dinosaurs, sports and family. After only a month, it's in its second printing.
A key to the book's success, Rosenberg said, is her editor's discovery of Myers, a first-time illustrator. Rosenberg turned down several illustrators before seeing Myers' work, which she said had a "great sense of humor, a clear vision and a wild energy."
"When I saw his work, I thought 'I trust this guy,'" she said. "He's smart, funny and fantastically gifted. I feel unbelievably lucky to be working with him. … I've literally looked at the book's pictures with a magnifying glass. That's how much great stuff Matt has put in it."
Myers, a Brooklyn resident, spent 20 years in advertising before turning his attention to painting. He got into picture books after galleries told him that his painting style would work well in the field.
"I was itching to have more people see my stuff," he said. "The idea of a child seeing something I created that would make the imagination grow a little bit is really exciting to me."
For Rosenberg, one of the biggest surprises came when she saw the cover Myers created: Tyrannosaurus Dad carrying Tobias on his shoulders while mowing the lawn.
"When we saw the cover (my husband) asked me: 'Did you tell him about that?' Our son rode on his father's shoulders while he mowed the lawn. We looked at that cover and said, 'Matt Myers really got it.'"
Rosenberg is preparing a third "relative" picture book and hopes Myers will illustrate that, too. She also is finishing a more somber adult novel about a medical legal case. Her first adult novel, Home Repair, was released in 2009 to critical acclaim.