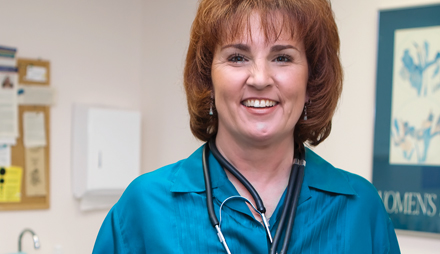 If it takes a village to raise a child, what about that village works best? Are there qualities at work in certain neighborhoods that help point youngsters toward success in life?
Susan Seibold-Simpson, clinical assistant professor in Binghamton University's Decker School of Nursing, hopes that by learning to understand the influence of neighborhoods, nurses can help reduce a major risk that limits opportunities for girls — teen pregnancy. One of her most tantalizing findings suggests that when parents get involved in community organizations, their daughters may be less likely to become young mothers.
As a nurse practitioner in reproductive health since 1988, Seibold-Simpson has too often seen early motherhood shut doors in the faces of adolescent girls.
"Once a young woman becomes pregnant, whether it was planned or not, it appears to substantially alter her prospects of continuing in school and going to college," said Seibold-Simpson, who still works several hours a week at a clinic near campus. The young mother often stays involved with the baby's father, even if he makes a bad partner, limiting her chances for other, healthier relationships. And early motherhood might doom her to a life of low-paying jobs, with little time and few resources to devote to her children.
While caring for individuals, Seibold-Simpson came to realize that she also wanted to make a difference on a larger scale. And she wanted to prevent problems, not just deal with them after the fact. "What can we do at the community level," she asked, "to make a teenager feel she has more options in life than becoming a teen mom, so she might choose to delay childbearing until she's a little older?"
Seibold-Simpson took inspiration from social psychologist Peter Benson's work on positive youth development, which stresses giving children assets to help them succeed. As a public health professional, she also seized on the concept of social capital, which looks at relationships among people in communities.
"A lot of the teenagers I work with come from difficult families," Seibold-Simpson said. As mothers struggle to raise their kids, she wondered, what can the neighborhood contribute to help launch children in a positive direction?
To find answers, Seibold-Simpson examined data from the National Longitudinal Study of Adolescent Health, a survey of about 90,000 adolescents in grades 7-12 conducted in 1994 and 1995. She chose about 2,000 girls from this sample, based on several criteria: they were sexually active; they answered survey questions about sexual activity, use of condoms and use of contraceptives; and the mother or father (usually the mother) had responded to a separate survey for parents.
For each girl, Seibold-Simpson examined the socioeconomic status of her neighborhood and family, her attitudes toward pregnancy and contraception, her reported use of condoms and contraceptives, and her parent's level of social capital. She broke social capital into three components: parents' norms of reciprocity ("If you saw your neighbor's child getting into trouble, would you tell the neighbor? Would your neighbor tell you about your child?") and network membership ("Do you belong to the PTA, a sports group, civic group, labor union or other organization?") as well as teens' perception of trust ("Do you know and talk to the people in your neighborhood?").
Researchers already knew that many girls in poor neighborhoods regard early pregnancy as no great disaster, and therefore are less likely to use condoms and other contraceptives. For Seibold-Simpson, the big question was whether the right kind of neighborhood can overcome the influence of poverty.
As she analyzed the data, Seibold-Simpson was surprised to learn that reciprocity, trust and social networks don't form a single factor called social capital. High levels of trust and high levels of network membership instead pull girls in different directions.
If women in a poor neighborhood believe that teen motherhood is fine, and they stand ready to help pregnant girls, the teens who trust those women probably will adopt the same belief. "That was not what I initially anticipated, but it does make sense," Seibold-Simpson said. Those girls are likely to neglect contraception.
But the study showed that network membership has the opposite effect, she said. "If your parents belong to more networks, your positive attitudes toward adolescent pregnancy decrease."
Seibold-Simpson speculates that networking does the most good when it takes parents out of their usual surroundings, exposing them to people from a variety of backgrounds.
This hypothesis is one of the most interesting aspects of Seibold-Simpson's work, said Dianne Morrison-Beedy of the University of Rochester Medical Center's School of Nursing. "To think that what happens with the parents, and the types of networks they have, moves down a layer in the family to impact girls and improve their health was a big find for her," Morrison-Beedy said. "We don't have a lot written about this."
The notion that involving parents in community activities can help keep their daughters healthy has big implications for nurses. "Nurses understand the ins and outs of how to get into programs, how to get into networks, that parents might not have had experience with," Morrison-Beedy said.
Seibold-Simpson is further exploring her theory of wider horizons, trying to pin down what kinds of groups exert the most helpful influence. She cautions that along with network membership, it's also important to examine how broader issues, such as politics and economics, influence neighborhoods and adolescent girls. But she is intrigued by the notion that parents can point their daughters toward a brighter future by getting involved in community life.
"If you belong to more groups, you have a broader perspective," she speculates. "That's what I'm interested in following up on."
What does social capital mean?
Susan Seibold-Simpson breaks the idea of social capital into three components:
Norms of reciprocity: If you saw your neighbor's child getting into trouble, would you tell the neighbor? Would your neighbor tell you about your child?
Network membership: Do you go to religious services? Do you belong to the PTA, a sports group, civic group, labor union or other organization? (This component is the key in terms of teen pregnancy, Seibold-Simpson found.)
Trust: Do you know and talk to the people in your neighborhood?