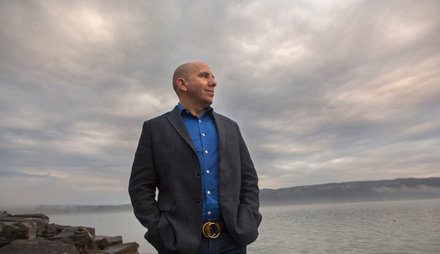 In The Lobster Kings, Alexi Zentner weaves a story that feels at once perfectly realistic and like a legend borrowed from another era. The novel, published this month by W.W. Norton, arrives just three years after Zentner's critically acclaimed debut, Touch.
Zentner, an assistant professor of English who joined Binghamton University's faculty in 2013, describes his style as mythical realism, an idea related to (but separate from) the tradition of magical realism established in Central and South America.
"I try to work the myth through the fabric of the entire story," he says. "I'm not interested in using myth or magic as a showy parlor trick. I hope what I'm doing is something new and different."
The Lobster Kings is new and different on a number of levels. The novel, which pays homage to Shakespeare's King Lear, centers on the relationship between an aging man and his three daughters, one of whom is named Cordelia. But it's also an entirely modern tale featuring meth dealers and a female ship captain who hopes to stop them before they wreck her hometown. There's homicide, a rape, the legacy of a world-famous painter and stormy seas, too.
Publishers Weekly called the novel "brutal and beautiful" and noted that Zentner gets the reader to root for Cordelia early on. "His fusion of myth and mission, fury and beauty, as well as the palpable sense of place in this unique corner of the world add up to a memorable tale," the review concluded.
Zentner, who was born and raised in Ontario, now lives in Ithaca, N.Y., with his wife and two daughters, ages 10 and almost 12. The Lobster Kings unfolds on an island off the coast of Maine. Loosewood Island, just like Zentner himself, is contested territory, both American and Canadian.
Setting the story on an island (and in the near-past of 2005) allowed Zentner to work around technology challenges that all writers face when they write about the present day. "If you set a novel today in Manhattan, you can't have missed connections," he says. "You can't have mistaken identities. It's almost impossible to write about somebody getting lost."
Like the community of Sawgamet in Touch, Loosewood Island feels so real that readers may be surprised to hear it's entirely fictional. In fact, Zentner started working on the book during a writer's residency in Wyoming.
"It's easier to write about places you've been than places you are," he says. "You can see more clearly what you've left than what you have."
Zentner wanted the community of Loosewood Island to reflect reality, especially the reality that even in small towns, not everyone's alike. His fictional fishing village has its tough guys and alcoholics — as well as lesbians, teachers, artists and criminals. Zentner says he tries to do enough research for a project that he knows what he's talking about but not so much that he's writing a book report. There's a risk, he says, of being accurate but boring.
"Nobody's interested in what the day-in, day-out of lobster fishing is; they're interested in the idea of it," Zentner says. "We're more interested in what it means to be that person than what it actually entails."
And he didn't hesitate to put a female character at the heart of the book. "I can't write women, plural," Zentner says. "But I can write Cordelia, and I can write women, singular. There is no female voice or male voice, just the voices of individual men and women.
"I have two daughters. I'm really interested in the relationship between daughters and fathers and what it means as a woman to step into a position that's been male-dominated. My goal wasn't to make Cordelia anything other than complicated."
About Alexi Zentner
Alexi Zentner, a Canadian-American novelist who joined Binghamton's faculty last fall, will be on the road promoting his new novel during the next few months. Zentner, a Grinnell College graduate who earned an MFA from Cornell University, writes novels as well as short stories. His first novel, Touch, received numerous accolades in Canada and was published in 10 languages. He is the winner of the O. Henry Prize and the Narrative Prize and has been shortlisted for the Pushcart Prize.