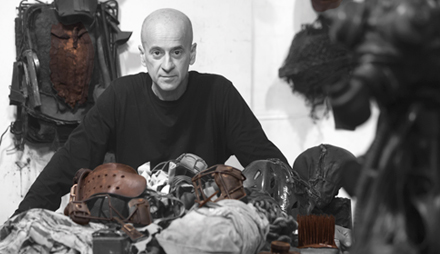 In our candy-colored digital world, there's no time for rust. Gadgets from five years ago are worthless to a "new-every-two" culture. And a man working long hours alone in a garage is presumed to harbor grand ambitions of becoming a start-up millionaire.
But on Robinson Street in Binghamton, you can pick up a distinctly analog signal. It emanates from the cramped studio of sculptor Ronald Gonzalez, a Binghamton University faculty member who transforms the detritus of the last century into burned and blackened figures that speak to the 21st century's values, politics and ideas of beauty.
Step inside, and you'll see a workbench that will never witness the birth of a shiny, high-tech gizmo. It's dotted with drips of wax and home to ancient coffee cans bristling with tiny paintbrushes. The jumble of not-yet-art objects stacked against the walls includes a red typewriter, bicycle seats, a deer skull, a rotary phone, broken guitars, a doll-sized bathtub and hopelessly scratched 45s. Standing guard among this trove are completed works, figures with names like "Stitch," "Bug" and "Stir."
A slight, soft-spoken man in a black T-shirt, dark jeans and gray sneakers, Gonzalez is perhaps more at home among these curiosities than anywhere else. "I've got a great eye for decay," he says, scanning his treasures. "The more dilapidated something is, the more attracted I am to it."
Only in Binghamton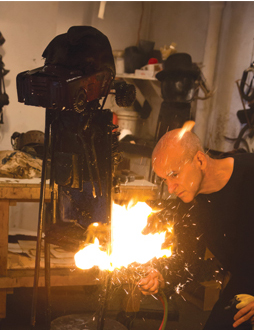 Gonzalez, a prolific sculptor and recipient of the 2013 SUNY Chancellor's Award for Excellence in Scholarship and Creative Activities, has had solo exhibitions at world-class museums such as the Corcoran Gallery of Art in Washington, D.C., and the DeCordova Museum and Sculpture Park near Boston. He has mounted shows at the Spoleto Festival, the Purchase Biennial and in places as far away as Peru and Germany. But his roots bind him to Binghamton, where Gonzalez grew up a bit of a street kid in the 1950s and '60s.
His mother was religious; his father just the opposite. He was an altar boy who knew how to shoplift. In fact, Gonzalez says, the major dichotomies in his life can all be traced back to his childhood. Contrasts of sex and guilt, rich and poor, God and atheist, imagination and reality, life and death shaped his emotional and psychological outlook.
"I am definitely a TV and telephone kid from the 1950s," he says. "I am a product of post-World War II existential Binghamton and the Atomic Age."
Gonzalez was awakened to art through religious statuary stored in the basement of the local church, where he would pretend to be a sculptor. He was intrigued by the idea that someone could use his imagination to manipulate the human form.
Gonzalez went to the 1964 World's Fair in New York City with his mother when he was 12. He got lost and recalls wandering through the exhibits until he came to Michelangelo's Pietà, which was there on loan from the Vatican. Gonzalez couldn't see over the people crowding around it, but remembers feeling "a sense of reverence and awe" among the onlookers.
That moment and one other, a few years later, sparked something inside Gonzalez. When he was in his teens, he saw pictures of Auguste Rodin's The Thinker. His first thought was of the sitcom The Many Loves of Dobie Gillis, which sometimes featured the main character striking that classic pose. But Gonzalez's second thought (in a moment of boredom) was to look for art books at the library.
He managed to locate a book about Rodin and another about Vincent van Gogh. "I became fascinated with the presence and power of the swirling sea of figures in Rodin's The Gates of Hell," Gonzalez says. "I went out and bought a bag of clay that day. I brought it into my bedroom and started making things. I've never really stopped."
It was the late 1960s, but the art books he remembers finding in the public library highlighted figurative sculpture from the 1940s and '50s. He learned about French sculptor Germaine Richier, Alberto Giacometti and Pablo Picasso, artists often concerned with themes of isolation and anxiety. "There was enough there to get my mind going," Gonzalez says, a slight smile crossing his lips.
In the mid-1970s, he met Ed Wilson, who taught sculpture at Binghamton University. Gonzalez eventually earned a bachelor's degree in art from Binghamton, where he returned in 1999 as a faculty member. Today, he says, he sometimes feels "good vibrations" while critiquing student work in his office, which used to be Wilson's. Though Gonzalez came late to teaching, he values the one-on-one contact with students. "I help them develop a personal language in sculpture," he says. "I'm trying to turn them into themselves."
Gonzalez says his own feeling for being an artist and making things, which began as a kid, still lives deep inside him. "It's like I'm 60 going on 6 in some way," he says. "That same thud of an idea and impulse I had as a child is something I never let go of. It's still there, and I'm still making things from what I can find in my immediate environment."
He has adapted to that environment, especially the wintry grayness of the upstate valley that has been his home all these years. "Geographic location defines identity," he says. "My work is saturated with time and the moments of my life. I remember the black-and-white Twilight Zone qualities of the Binghamton diners, streets and train station growing up. Dorothy from The Wizard of Oz was right when she said there is no place like home. But home sickness is not something you get just when you miss home. It is also something you get because you never left."
Don't confuse Gonzalez's strong roots with provincialism, though. He spent time last summer touring the museums and galleries of London and has made other pilgrimages abroad. "New perspectives are always healthy, even for a self-proclaimed homebody," he says. "When you stay in one place your whole life, time and space take on a tremendous weight. There is no place like home — and no place like the rest of the world."
The creative process
A new chapter in Gonzalez's lifelong project on the personification of things might originate with something like an air filter from a car or a gas mask. He has a special fondness for objects that were designed to communicate and that are now useless. A telephone or speaker, for instance, could become the head of a new figure.
Gonzalez generally begins with a welded metal armature, almost a template, with legs and arms. He wires objects onto this base, starting with the item or items that will form the "head." "From there, I try to create a persona, an identity for the figure," he says.
He fills journals with possible titles for sculptures, and so sometimes he has a name in mind right from the start. "Stitch" features footballs with the stitching as a scar; several change purses were transformed into a piece called "Tabernacle," suggesting an internalized sacred space.
Often the source material can be identified immediately, but other figures challenge the casual observer to look more carefully. The head of a piece titled "Stir" was made from stirrups you'd use to ride a horse, but they're obscured by the sculpture's insect-like quality. Gonzalez wants the objects to be recognizable if you look at them long enough.
At this point in the process, Gonzalez critiques the figure. Some will be thrown away. The ones he likes will be coated with paint, metal filings and carbon from a settling tank. Next, he scuffs the figure with steel wool and coats it with beeswax. For a final touch, he sets fire to the piece in a small courtyard next to his studio. That burns off the extra wax.
"I like the idea of corrosion because of its expressive power," he says. "Destroying things is part of making things. It's part of the process. A lot of things fall away."
Sculpture is a day-in, day-out process for Gonzalez, who estimates that he has produced hundreds and hundreds of figures during the past five years.
While he's in the studio, he keeps a schedule that bears more than a little resemblance to his father's day when he was cutting soles for shoes at an Endicott Johnson Corp. factory. "I get up in the morning and come to work, take a break, come back, work," he says. "At 5, I usually go home, have half a glass of wine and eat something and go to bed early. I think that assembly-line mentality is something I developed early in life. There are days when I think of my studio as a figure factory."
Gonzalez isn't a happy-go-lucky kind of guy. He says he doesn't even like jokes. But in the studio, this introvert finds a sense of balance, one that energizes him. "There have been times in my life when things were horrible," he says, "and I could come to my studio and be resurrected through my work."
Forging ahead
His time in that studio, which he likens to a part of his body, may be coming to a close. The property, owned by Gonzalez's elderly mother, recently went up for sale, and he has begun to consider losing the place that has informed the spirit of his work for nearly four decades.
This spring, he plans to create a new work space at his home. He's carving out room in an outbuilding, tucked into the lush, beautifully landscaped yard where his old dog likes to play. Gonzalez expects the studio move to be a difficult transition, but he has grown accustomed to working through challenges.
There are the challenges common to all sculptors: where to store the work that's not on display, how to transcend small studio spaces, buying a pickup truck that's big enough to haul pieces to shows.
And there are the challenges more particularly his own: the paucity of Atomic Age objects available at flea markets and garage sales these days, chief among them. Younger generations often don't value older things, he says, and at the same time eBay has given people a different way to make money on antiques.
"I've done things the hardest way possible," Gonzalez says. "I work by myself. I make everything by hand. I've never been very strategic."
Art carries a huge risk, he notes. It's not just a lack of money or a traditional career trajectory. It's hard to live through rejection. "Artists work out of a need for self-expression, not a need for recognition," he says, possibly echoing conversations he has had with himself over the years.
Only a small sliver of artists achieve fame or even real recognition, Gonzalez says. And even those with tremendous ability may not get the attention of the art world. He draws a comparison that few artists would be likely to make: Artists toiling in obscurity are like Jimmy Bivens, a talented heavyweight boxer who never managed to get a title fight.
Gonzalez sees 21st-century digital culture as a colorful, hypnotic place in which a confusing visual experience is presented as reality. "It's a kind of mummified world now," he says. "There's a loss there."
He's determined to keep sending out his unique analog distress signal and hopes his blackened minions will stand their ground against the electronic tidal wave. After all, he says,  "I am from the world of mud."
Inside the artist's studio
Click here for a 360-degree view inside Ronald Gonzalez's Binghamton studio.