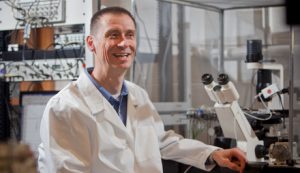 A Binghamton chemist's research has led to the creation of patent-pending compounds that may fight cancers currently treatable only by radiation therapies, including prostate and triple-negative breast cancers.
Biophysical chemist Christof Grewer is part of an eight-year collaborative project backed by a $2.4 million National Institutes of Health grant, awarded to the Icahn School of Medicine at Mount Sinai and recently renewed until 2023.
Grewer is a professor of chemistry and the department's undergraduate program chair. He's also one of the world's leading researchers of glutamine, an amino acid found naturally in the body that's critical for a healthy immune system, and ASCT2, a glutamine transporter, or the "elevator" that carries the amino acid into cells to aid in the production of proteins.
"Cancer cells become addicted to glutamine as an energy source and they import it at a very high rate, so the idea is to target and prevent the glutamine from getting to the cancer cells," Grewer says.
Avner Schlessinger, a computational biologist and associate professor of pharmacological sciences at Mount Sinai, partnered with Grewer to develop ASCT2 inhibitors. Grewer's lab creates compounds and oversees functional testing, while Schlessinger's lab conducts computational analysis and predictions.
"I wanted to collaborate with Christof because he is a top expert in the world in membrane transport biophysics," Schlessinger says. "I knew I could learn from him and work with him to test both our hypotheses. It's an ideal collaboration because we complement each other. He is kind and patient in sharing his data and knowledge, which enables us to do better science and really have fun while doing it."
Grewer and Schlessinger first met during a 2012 conference in Switzerland. Grewer had already established himself as an expert in membrane proteins. During his post-doctoral fellowship at Cornell University in the mid-'90s, he studied glutamate receptors — glutamate is a neurotransmitter and an important molecule in cellular metabolism — and he became a pioneer in using lasers in his research.
After seeing the similar molecular structures in glutamate and glutamine transporters and studying how glutamate transporters responded to blockers, Grewer turned his focus in 2004 to glutamine and an ASCT2 inhibitor. To date, only a handful of labs in the world are involved in similar research.
Grewer and Schlessinger published a pre-print that includes a cryo-electron microscopy structure of ASCT2 and included one of their compounds. Three of Grewer's doctoral students have assisted in the project; Elias Ndaru was included as a pre-print author due to his instrumental and prolific work in developing compounds.
The compound synthesis and the patent application filing are only the beginning of a long research and development journey. The steps toward potential clinical applications will involve developing the next generation of compounds at ideal potency levels, extensive pre-clinical testing for efficacy and safety, and eventually clinical trials, which will require additional research and development, funding and commercialization partners, such as startups or pharmaceutical companies.
The public tends to think of cancer as one disease when in reality it's hundreds of different diseases, Grewer says.
"We're learning every cancer is different and there is not going to be one silver bullet to 'cure cancer,'" he says. "There are so many molecular aspects and so many different types of tissue involved that treatment may some day be individualized to the patient."
Grewer has been teaching at Binghamton since 2008 and is thankful to be able work with students while continuing his research. "It's a nice balance to be in the classroom and to be able to be in the lab," he says. "It helps me keep up with the latest technologies and developments, and I think my students benefit from that type of experience."