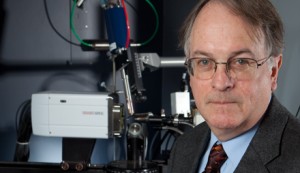 A new $12.8 million, four-year grant from the Department of Energy will support materials research at Binghamton University. It's one of the largest federal awards in University history.
One of 32 grants awarded for a total of $100 million to fund Energy Frontier Research Centers (EFRCs), it will help accelerate the innovations needed to build a 21st-century energy economy.
"We are mobilizing some of our most talented scientists to join forces and pursue the discoveries and breakthroughs that will lay the foundation for our nation's energy future," U.S. Energy Secretary Ernest Moniz said this week in announcing the grants.
The Binghamton grant was awarded to the NorthEast Center for Chemical Energy Storage (NECCES), directed by M. Stanley Whittingham, distinguished professor of chemistry and of materials science.
"Stan Whittingham is a pioneer in the development of lithium ion batteries and his research has already had a phenomenal impact on our society," President Harvey Stenger said. "Receipt of this highly competitive grant will enable Stan and his colleagues to continue to push the boundaries of energy storage and battery life, and underscores the value of the work Binghamton University researchers are involved in every day."
"This grant illustrates the quality and importance of smart energy research at Binghamton," said Bahgat Sammakia, vice president for research and distinguished professor of mechanical engineering. "Batteries are essential to improving technology in so many ways, whether it's portable electronics; smart grids, which enhance security and save energy; green energy harvesting such as solar and wind; or data centers, which require a backup energy source."
"Stan Whittingham's center competed against proposals from top schools around the country and won," Sammakia said. "It's an endorsement of him and speaks to the high caliber of his research."
Whittingham and his colleagues want to understand the fundamental chemical reactions in energy storage materials to make them work better and to develop new materials that are cheaper, environmentally friendly and able to store more energy than current materials can.
Intercalation reactions are the key to Whittingham's research on lithium-ion batteries. Such reactions will require materials that remain structurally the same even as lithium ions are put into them and taken out of them. These materials would work much like a sponge, which retains the same basic structure even as it absorbs water and as that water is squeezed out of it. Finding that sort of structure is a crucial aspect of hybrid electric cars because consumers would expect a battery to last 10 years or so. The less battery materials change as they recharge and are used, the longer they'll last.
"The research I have been involved with for over 30 years has helped advance how we store and use energy at a very foundational level — through batteries that, among other things, power most laptop computers," Whittingham said. "This infusion of funding for the work that I do with my colleagues in the NorthEast Center for Chemical Energy Storage will allow our work to continue as we seek to improve on current methods for energy storage in a way that will impact everyone around the globe."
More than 200 proposals were submitted to the Department of Energy for this second round of awards for EFRCs to enable fundamental advances in energy production, storage and use. The NECCES, with Whittingham as director, also received funding in the first round. Partner institutions include Rutgers, MIT, Argonne National Laboratory, Cambridge University, the University of California at San Diego and at Santa Barbara, the University of Michigan, the University of Illinois-Chicago and New York University.
Since their establishment by the Department's Office of Science, the EFRCs have produced 5,400 peer-reviewed scientific publications and hundreds of inventions at various stages of the patent process. EFRC research has also benefited a number of large and small firms.
The centers selected for the second round of funding will help lay the scientific groundwork for fundamental advances in solar energy, electrical energy storage, carbon capture and sequestration, materials and chemistry by design, biosciences and extreme environments.